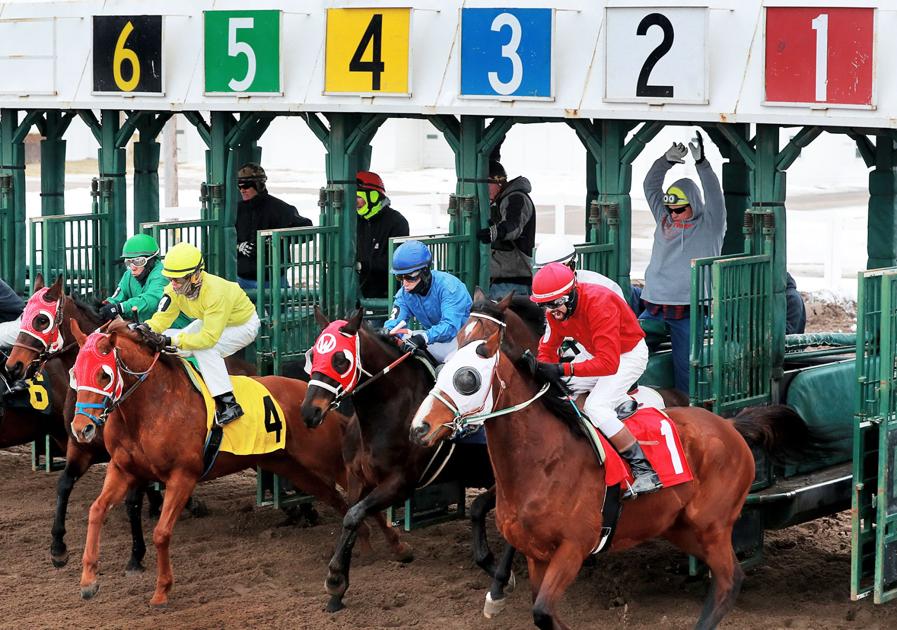 Wandering around Fonner Park on opening day, it's not hard to find people who have a long history with the track.
Randy Zalman, 69, was 5 years old when his grandparents brought him to Fonner for the first time. His grandma, Lettie, made fried chicken, which they enjoyed at the track.
Zalman, a Red Cloud native, has lived in Grand Island for 15 years. He didn't come to Fonner last year, but he's made it every other year.
Zalman's grandfather, George Miksch, ended up dying at the track. "They hauled him out of here" after a heart attack, Zalman said. Because of Miksch's love of horse racing, it was "a perfect place for him to die," his grandson said.
Chris Perales, 76, kept a long string going on Friday. He's attended every opening day at Fonner Park since 1963.
He had a good day financially, coming out $450 ahead.
Perales, who worked 35 years for Union Pacific, puts a lot of thought into the horses, the jockeys and the trainers.
His wife sometimes asked to come along, but when they got there, he asked her not to talk. "When I'm here, I'm all business," he says. She doesn't ask to come along anymore.
Actually, Perales prefers simulcast betting on races at Gulfstream Park and Oaklawn, because Fonner doesn't pay out as much as it used to, Perales said. He'd like to see the return of the $2 minimum bet. He's not fond of people betting 50 cents or a dollar.
Speaking of changes, Zalman believes more education should be done to teach people how to wager.
But it's not all about betting. Zalman also likes to watch the horses run. A horse, he said, is "a hell of an athlete."
Snowflakes were falling Friday afternoon. At times, they were big.
But the 66th year of live racing got going in spite of forecasts of doom, which could still turn out to be true.
On Monday, Fonner CEO Bruce Swihart didn't know if there'd be racing Friday. He didn't know for sure until Thursday.
It's always disappointing if you can't get opening day in, Swihart said. It's a letdown "staff-wise, trainer-wise, jockey-wise — everybody's worked their tails off for this day," he said.
"Having to cancel opening day is really a downer. We're happy to get it done, and it went for the most part pretty smoothly," he said.
The race track was "in great shape," Swihart said. "Our track crew does a tremendous job under some very difficult conditions."
The crew works on the track daily, after the horses run in the morning.
"Once a week, we'll probably take the motor patrol and blade the track — move the dirt back up and smooth things out and then fluff it back up," he said.
The weather has been "throwing so many different curve balls at us," he said.
One day might be good. Then, "We've got to blow the snow off the racetrack."
Workers put salt on the track every year. This year, they dumped "quite a few loads of salt on the track and the training track." They also added some sand.
The only opening day Swihart remembers canceling was two years ago. Last year, two days of racing were canceled in April, and two days were cut short in March.
"Back in the day, which hasn't been that long ago, most of our cancellations came in March," he said. But things have changed. In more recent years, "it's been more difficult to open," said Swihart, who's in his 43rd year at Fonner Park.
Fonner patrons, by the way, come in all ages.
Seated together were Ben Hinrichs, 22, and Dillon Bieck, 23. The two young men, both graduates of Giltner High School, plan to come out five or six more times this year.
Two couples made the trip from Furnas County. They were Mike and Patty Roskop of Arapahoe and Bill and Candy Weaver of Beaver City. When Mike Roskop had a dairy, he used to buy alfalfa from Bill Weaver.
The couples come to Fonner Park at least six times a year. Candy Weaver loves the excitement of the races, and the fun of being with friends. On Friday, she was picking winners based on colors. Another day, she'll use a different strategy.