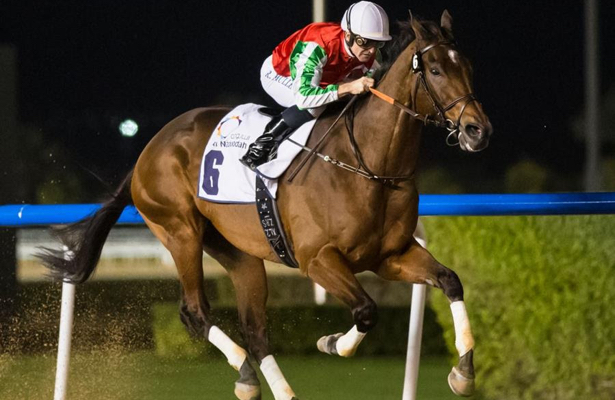 Photo: Dubai Racing Club
With only Dubai World Cup night remaining in the 2018-2019 Meydan meeting, I'm taking a close look at local runners in Saturday's $12 million feature, hoping to provide some perspective for an American audience that may be tuning into UAE racing for the first time this season.

Before getting to to the contenders, I have to mention that this year Meydan is acting differently. The days when the leading horse always seemed to win, and those traveling wide were without a chance, are gone. This year we have seen winners coming from everywhere. During the first meetings of the 2018-2019 season, horses that had to stop, or came from off the pace, still won by big margins.

The local jockeys were caught by surprise because the tactics used in previous years (i.e. shoot for the lead, go as hard as you can, and let the track carry you home) weren't working. As a consequence, riders began going slower, and there were fewer speed duels.

To sum it up, Meydan appears to be more fair than than its former self. A horse can still win on the lead provided it's good enough, but the track is not as punishing to the rest of the pack.

So, moving on…
Thunder Snow

I will start with last year's winner, Thunder Snow. After his victory, he took a five-month break before running in Europe on turf, then five weeks later turned around to be a credible second in Belmont Park's Jockey Club Gold Cup (G1). He backed up that dirt form with a third in the Breeders' Cup Classic. Connections decided to skip the Pegasus World Cup (G1), provide another break and target a Dubai World Cup defense.

Thunder Snow made his reappearance in the recent Al Maktoum Challenge Round 3 (G1) and finished second, 9 1/2 lengths behind Capezzano. It was arguably the worst race he has ever run at Meydan, and perhaps in his life. Of course, that's not counting the race in which he didn't really run, the 2017 Kentucky Derby.

Last year, Thunder Snow finished second to North America in the same race in 2:02:63 while being softened up chasing the winner's early fractions. He returned to win the DWC in 2:01:38 while having things his own way. In his most-recent race, Thunder Snow went the same 1 1/14-mile distance in 2:06:73.

He did go fast early, but he ran 5.5 seconds slower than his lifetime best and 4 seconds slower than when cooked by a top effort from North America. The race times point out that he started slowing down significantly after the opening 3/4 of the race, and visually he essentially stopped in deep stretch.
That day, March 9, the track was not slow. Muntazah broke the mile record two races before the Al Maktoum Challenge Round 3. I understand this was just a prep race, and the main target is the DWC. I understand Thunder Snow was not 100 percent fit. I also understand that he wasn't cranked up and he will show up in better shape better come the big night.

Nevertheless, Thunder Snow is entering the race with 4-plus seconds to find over his last performance and with only three weeks to do it. Running at his best does not make him an easy winner,  either. Last year's winning margin was the result of the track bias, but his U.S. races proved that he is classy enough to compete and even win on his day against the top dirt horses.
North America

Next to discuss is a local speedball, North America. The 7-year-old gelding is most effective when on the early lead. He was expected to pace last year's race and try to do what Thunder Snow pulled off, but he missed the start. His season reappearance came on Jan. 10 when he romped at a mile while setting fast fractions and recording an excellent winning time.

North America's next outing came over 1 3/16 miles on Feb. 8. Cosmo Charlie, a horse that likes the lead and is of the same ownership as North America — but not in the same barn — was part of a small and weak field. Every time these two met in the past, Cosmo Charlie chased North America for five furlongs and stopped, while North America kept on running. As admitted by Cosmo Charlie jockey Pat Dobbs on an interview the following day, the two jockeys (Pat and Richard Mullen, North America's rider) came to the agreement that North America would lead and Charlie wouldn't force the issue. It worked because the horses finished first and third, but New Trails closed a lot of ground on North America late.

This race exposed two things about North America: First of all, he showed that in order for him to run a fast final time, he has to also go fast early. He went slow early in last year's Al Maktoum Challenge Round 2 and ended up losing to Thunder Snow. He turned the tables on him in Round 3 while setting a brisk pace. 

In his last race, North America went slow early, opened up up a big lead entering the stretch, but then slowed down significantly toward the end. Adding to his distinct running style, that raises some serious distance issues, his second basic trend. North America has never been a true 1 ¼-mile horse. He is more of a miler.
Up to last year, Meydan had been a great place for milers to stretch out and try to carry their speed farther. The main reason North America tried going longer initially was to stay away from another speedster in the division, Heavy Metal. Every time they met, they ended up cooking one other. Just remember the 2017 Godolphin Mile when these two along with Gifted Master set a pace that was toxic enough to soften up a horse like Sharp Azteca and make him lose to a couple of much inferior horses.

With Meydan playing more fair this year, North America's chances of winning the race depend on the trip. He will need a pace within his comfort zone. Meydan is still a good track for winning on the lead, but you have to be at least as good as the opposition to do it. He is in good form, and his connections decided to skip the Al Maktoum Challenge Round 3 to have him fresh for the big race. There is nothing in the field that is a clear cut above Thunder Snow. He can win, but he will not have the track bias on his side this time.
Capezzano

The other local speedball in the race is Capezzano. The ex-Godolphin 5-year-old gelding scored three wins out of four starts this season. After missing the start in his season debut, he won three in a row. The first two came over a mile in 1:38:06 and 1:36:95, respectively, and then he won the Al Maktoum Challenge Round 3 over 1 ¼ miles in 2:05:02. He is having the best season of his career, and his improvement is more than obvious. But chances on winning the DWC are limited.

He is another miler stretching out, and if he is to run well in the DWC he somehow needs North America out of contention. The two met last year in Round 3, and Capezzano proved no match for North America. He chased him for five furlongs and stopped. He has undoubtedly improved since last year, and the change in head gear adding a hood in his last two starts has definitely helped. But he is still a cut below North America.

Capezzano's first two wins came against much weaker company, as his impressive mile was about a second slower than North America's season debut, and the final time of his last win does not say much. It will be interesting to see the tactics used by their jockeys. Capezzano is capable of forcing North America out of his comfort zone, but he will most probably lose the pace battle.
Dolkong

Dolkong came from South Korea and made his Meydan debut in the same race as North America. He found that one to be too classy, at least over a mile. The 5-year-old gelding is a horse that loves going long. He improved in his second outing when finishing third in a handicap after a horrible trip and then beat the same field by 9 1/2 lengths looking impressive in 2:05:37. That was a race that went fast from the word go, and eventually everyone stopped except him.

Dolkong followed that run with a third-place finish in the Al Maktoum Challenge Round 3 behind Capezzano and Thunder Snow despite trouble from the gate and a wide trip. He is a grinder loaded with stamina but comes up short in the speed department. Despite not being as classy as others in the field, he will not be affected by the strong pace and he will be passing tiring rivals up to the finish line. He will most probably finish in front of the pace battle loser and has a good chance of beating both frontrunners if they both flame out. He figures to also defeat the other local prepsters with the exception of Thunder Snow.
The rest

The other locals are New Trails, Gronkowski and Axelrod. The first two finished behind Dolkong in Round 3, and with the faster projected pace they don't appear to have any legitimate claims. Axelrod ran in the Burj Nahaar over a mile against Muntazah and showed nothing. New Trails ran second to North America, losing by 2 1/4 lengths, but that was a slowly run race in which North America underperformed rather than New Trails running good.

There is a Japanese horse in the race, K T Brave, on which I won't pretend to be an expert. But one thing I've seen while reviewing his races is that he is commonly held back for a late run. He also doesn't appear to even be the best of the bunch back at home in Japan.

The rest of the field consists of the American charges, namely Audible, Gunnevera, Pavel, Seeking the Soul and Yoshida. Instead of handicapping them against each other, I want to provide some link to the two major local players —  Thunder Snow and North America — plus how fast the pace should go in U.S. standards.

Given we've seen Thunder Snow in top U.S. Grade 1 races and know he fits well, we can take his Beyer Speed Figures, plus add a few points given he had the race his own way, and say he deserved about a 105 for last year's DWC victory. In other words, this is what a track record is worth going 10 furlongs at Meydan on the Beyer scale. The same applies for the 1 3/16-mile distance and Mendelssohn, who won last year's UAE Derby (G2) in style.

So it does look like some of the Americans fit. In a few cases, they've already run against Thunder Snow and either topped or ran near him. There simply doesn't appear to be a standout in this year's field — no California Chrome, Arrogate or Gun Runner.

The latter was the last real superstar of U.S. dirt racing. Accelerate, the 2018 champion older male, appeared to peak in August with his Pacific Classic (G1) win before slowing to end his career. Despite a mild decline, he finished out with victories in the Awesome Again (G1) and Breeders' Cup Classic. Full credit to the horse for his guts, heart and determination.

But they were all blown away in the Pegasus World Cup (G1) by Dirt Mile hero City of Light, who essentially exposed the Breeders' Cup Classic field. The 2018 U.S. route racing year was largely one of slow horses and even slower 3-year-olds. With the exception of Justify — who may have been truly great, but do we really have any idea? — the 3-year-olds did little outside their age group. The performances of Gronkowski and Axelrod at Meydan seem to validate this.

Last year the Dubai World Cup was won in 2:01:38, which is the track record. A similar time can be expected this year, and pretty much any U.S. horse that can run a mile and a quarter in the low or mid-100s on the Beyer scale can win it — especially with the expected setup.

They could go Mendelssohn-fast on the front end. The fractions set by North America and Mendelssohn are similar, and Capezzano's presence only intensifies the potential pace scenario. Expect them to go somewhere between the speed of the 2018 Breeders' Cup Classic and Jockey Club Gold Cup — somewhere from simply fast to toxic. 

What's it mean for handicappers? Last year's 3-year-olds haven't shown they can run that fast. Rule out Gronkowski and Axelrod. Pavel looks out-classed too. Audible showed improvement in the Pegasus, and he may have a case. His form on sloppy tracks muddles what his true talent could be.

It appears that the key horse — and not just because he's the overseas market favorite — is North America. He will lead, he will set fast fractions, and he will be the first turning for home. He may put a few lengths between himself and the field at some point during the race. He may even appear to be traveling comfortably.

If this was a mile race, he'd be a shoe-in. But given the extra two furlongs, a number of others will be charging late. Pace and trip will determine a winner in a wide-open race.

Author Savvas Lopez is a horse racing researcher. The more he studies the sport, the more he loves it. Savvas spends his professional life developing business software, and his personal life developing horse racing software.