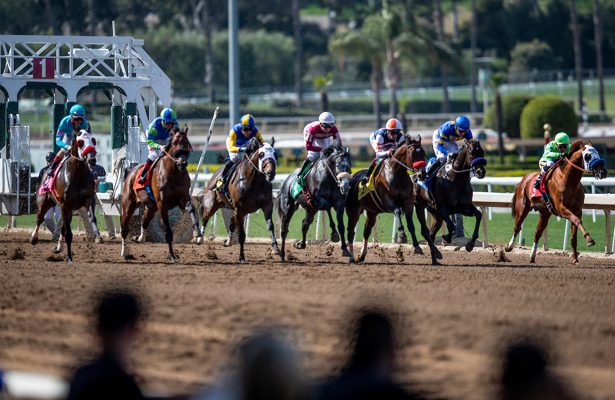 The appropriate reaction to Santa Anita Park's resumption of racing this weekend is hope.

Hope there won't be another incident. Hope there won't be another injury. Hope there won't be another equine fatality.

That hope is noble, well-intentioned, and aspirational, but it's also irrational.

Twenty-two equine fatalities at Santa Anita since Dec. 26 derailed horse racing in Southern California for nearly a month, and as foul as it might feel to say out loud or to even think about, there will be a 23rd. Everyone involved in horse racing knows it, including those who have been tasked with stewarding the Thoroughbred industry into the future. It is the reality of the sport.

So what will happen, both inside the racing community and outside, when the next horse breaks down at Santa Anita?

The answer, after consulting with industry stakeholders in the region, is: it depends.

The Stronach Group (TSG), which owns Santa Anita, has hired a public relations firm that specializes in crisis management. Other industry groups in California have statements at the ready.

The context matters, though. The way it happens matters. Which surface it happens on matters. Whether it happens during training or racing matters.

"The answer, of course, is there is no answer," said horse owner and California Horse Racing Board chairman Chuck Winner. "It will be another tragedy. We hope it won't happen, but it will. We all know that. Horses break down just running in the fields. They could break down running on clouds. A great deal will depend on circumstances."

But how rapidly so much has changed at TSG racetracks in California is a concern for many inside the racing bubble. A March 14 open letter from TSG chairman and president Belinda Stronach, released just hours after the 22nd fatality, called for sweeping and fundamental changes at both Santa Anita and Golden Gate Fields. The move was lauded by many, including prominent industry figures, but also engendered fear and apprehension in others, particularly horsemen.

Although compromises were made and approved by the CHRB on a number of those reforms Thursday, there is still a worry another fatality could lead to more measures that have been perceived by some to be reactionary and unilateral. It has also been a common argument that the measures already taken are not related to the fatalities, like proposals put forward by TSG and addressed by the CHRB to limit jockey whip use and Lasix administration.

"The incrementality of actions has been supremely concerning," Pat Cummings, executive director of the Thoroughbred Ideas Foundation, said on Twitter. "This scenario is the greatest fear, particularly when most if not all of the hotly debated 'solutions' don't actually solve the problem that caused them to be proposed."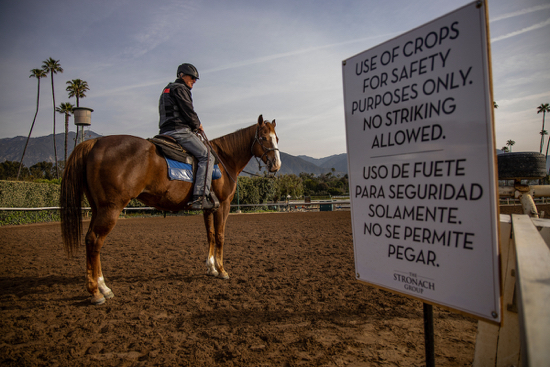 (Alex Evers/Eclipse Sportswire)

The most crucial reaction, however, might come from outside the racing industry, and it's difficult to gauge how much time without a breakdown or fatality would make the next one tolerable to the public, California politicians, and key animal rights groups.

Even with all of the measures TSG and the CHRB have already taken — banning the presence of nearly a dozen anti-inflammatories on race day, increased scrutiny and diagnostics on horses training or entered to race, and increased monitoring of the racing surfaces (just to name a few) — a breakdown could cause the crisis to spiral out of control again through pressure from entities outside the racing industry.

"I am terrified that one horse — one we did five exams on, and the track was perfect, and everything was going good — could go down," said TSG's chief operating officer, Tim Ritvo. "With the outside pressure in the world, in California and everywhere, it's possible even one won't be acceptable at some point.

"We could be one or two accidents away — where nobody did anything wrong — from a referendum (to end the sport in California)."

It's not an unfounded fear. A referendum to ban dog racing in Florida happened as recently as November. The University of Arizona's Global Symposium on Racing in December even discussed the potential impact of a referendum on racing in a session titled, "Is it Possible That Horse Racing is One Referendum Away From Disappearing in Your Jurisdiction? Lessons Learned From the Greyhound Industry." Members of the CHRB and TSG also openly acknowledged pressure from politicians has been applied.

"I've spoken to members of Congress and animal rights organizations," Winner said. "The urgency was there. No question there was a push — a movement."

A referendum would also present a perilous battle for racing. In any vote or election, the more motivated faction of voters often carries the day. It is difficult to imagine, based on the temperature of the current crisis, that those who might choose to keep horse racing would be more motivated to get out and vote than those who would want to end racing in the state.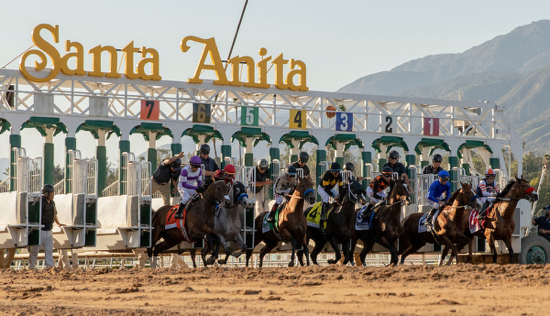 (Alex Evers/Eclipse Sportswire)

For an organization like the People for the Ethical Treatment of Animals, which was acknowledged as a player in Stronach's open letter, even the proposed reforms are not enough. When asked how PETA would react if another fatality were to happen at Santa Anita, the organization's executive vice president, Kathy Guillermo, said, "We'll be going straight to the governor."

While Guillermo praised TSG for its efforts — she called the reforms "the only meaningful action in a generation" for racing — she said another death would not be acceptable to PETA, even after an extended stretch of safety, because enough has not been done.

"I don't accept that horses will inevitably break down," Guillermo said. "I understand that is the reality, but when I look at an industry that hasn't done everything they can to ensure the horses are safe, I can't accept it."

Guillermo said PETA will "be demanding" more changes, including a move back to synthetic-track racing instead of dirt in California, even more increased diagnostic measures, and the elimination of medication in racehorses entirely. In her view, if every possible step is not taken to ensure safety, there should not be racing until that can be achieved.

"And if horses require medication to run, they shouldn't be running," Guillermo said.

Although the outlook may seem dire, those representing racing in California feel they are not only making changes for the good, but are also creating goodwill.

"What we did, in my view — I thought what we did was historical," said CHRB vice chair Madeline Auerbach, who is also a horse owner and breeder. "The next time (a breakdown) happens — and I'm hoping it's many, many weeks from now — the truth for me, in passing all the things we passed, is that the outside world has changed.
"If we as a community cannot accept these changes — if we, as a community, can't move into this era — I don't want to be a part of it. I don't want to breed horses any more. I don't want to race these horses any more. I don't want to be a part of it."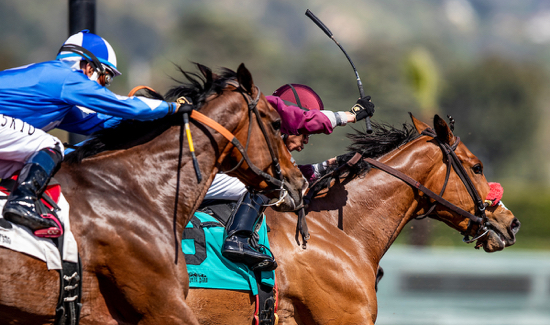 (Alex Evers/Eclipse Sportswire)

"One thing for sure," Ritvo said. "Moving forward in California and eventually everywhere, each individual horse from day one will be scrutinized at every level. Who is the trainer? Who is the jockey? Who is the exercise boy? Who is the vet? And we'll investigate better.

"I absolutely believe, if we do our job — run the right races, have the right vet care, if we back up the meds a little bit more, have better diagnostics, and if the track is in mint condition — the (fatality) numbers will go down. I don't think anyone can argue that."

Winner and Auerbach also acknowledged what would be a crucial step in the fatality equation. Both said TSG and the California Retirement Management Account (or CARMA, which Auerbach founded) are working toward a program that would increase the effort to save more horses rather than opting for euthanization after serious musculoskeletal injuries.

"It's preliminary, and I haven't talked to my board about it yet, but God forbid, when a horse gets hurt, whether it's catastrophic or not, it's important that we have programs in place to help the horse," Auerbach said. "We couldn't do it before because we couldn't afford it. What makes it doable now is that we have a corporation (TSG) who shares in it. Can we save every horse? No more than we can save any child (from danger), every shoulderband snail, or every delta smelt.

"And I don't want to trivialize it. There's no 100%, but there is mitigating that can be done."

"It's a difficult problem, because you don't want the horse to suffer," Winner said. "I (owned) a horse that broke both sesamoids and the horse wasn't suffering, and I made the decision the horse would be surgically repaired. They put in 56 nuts and bolts, it cost a lot of money, and it took a lot of time — about a year — but we eventually got him back and got to love him for many more years after that.

"You can do that, but it's difficult. You have to be really careful you're not doing more harm than good. If there's a way to save the horse, we can save the horse, and maybe go the extra yard to do that."

Both Winner and Auerbach said healing and acceptance should come with time (combined with reforms and no fatalities during that time), but there is an aspect that feels different this time around in comparison to other spikes in fatalities across the racing landscape.

"At what point will we have earned the trust of the outside world, even though we occasionally have issues?" Auerbach asked. "We have to earn the trust of the outside world again. We've lost the trust of everybody, and unless and until we get that back, I don't know the answer."

Guillermo also spoke to the reasoning that time heals all wounds, and to the sometimes fleeting public consciousness regarding racing's issues, but indicated that concept may no longer apply.

"That is what the racing industry has counted on every time," she said. "I think we may be coming to an end of 'the public forgets.'"