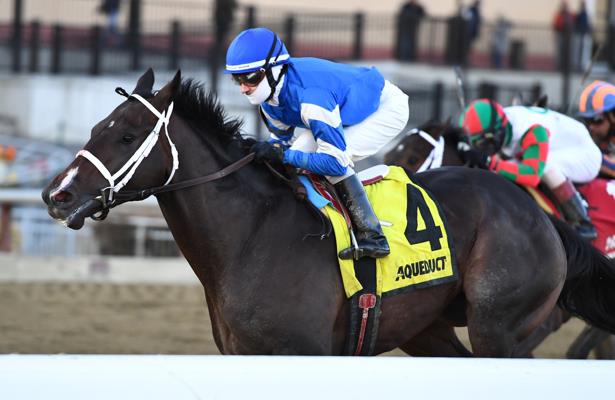 Photo: Joe Labozzetta/NYRA
As Godolphin Racing begins its charge toward the 2019 Kentucky Derby with Coliseum the anticipated favorite for Saturday's Grade 3, $100,000 Sham Stakes, the global racing and breeding operation has also returned to training a pair of former standout 3-year-old horses that aimed toward last year's race.

Jimmy Bell, president of Godolphin's American arm, said "it would be nice to have a fresh older horses," with the Grade 2 winner Avery Island back on the work tab as of Monday and Enticed having put in one drill in December, too.
Avery Island, a son of Street Sense, traveled three furlongs in 36.65 seconds at trainer Kiaran McLaughlin's winter base, Florida's Palm Meadows Training Center.
"He just had some soft tissue issues, and we were very conservative — gave him plenty of time," Bell said. "He's back."
Avery Island won the Nashua (G2) as a juvenile, ran second to Catholic Boy in the Remsen (G2) and opened his sophomore season with a two-turn victory in the Withers Stakes (G3) that had him on pace for bigger Derby trail targets before the setbacks.
"We're just trying a couple 3/8s — a couple half miles — and see where we get to," Bell said. "Obviously, he was a colt last year who showed extraordinary ability. Hopefully we can stay lucky, have some good fortune and stay good and sound.
"We'll see what he can really show as an older horse."
Enticed, a Medaglia d'Oro colt, won the Kentucky Jockey Club Stakes (G2) at age 2 and the Gotham (G3) at 3 before running 14th in the Kentucky Derby, his most-recent start. Another McLaughlin trainee, he breezed Dec. 1 at Palm Meadows.
"Both of those horses are on their way back, really," Bell said. "Avery Island's a little bit further along."