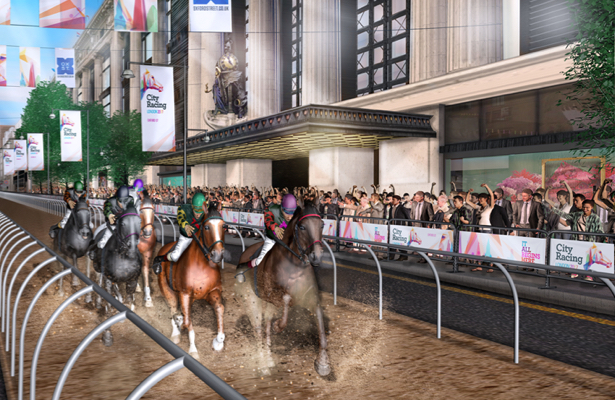 Photo: City Racing Rendering
City Racing, a project led by the Queen's oldest grandson, Peter Phillips, continues to move forward with attempts to bring horse racing to streets of major cities around the world by late 2019 or 2020. Phillips recently told BBC Sport he hopes agreements for City Racing meets will be in place by the end of March.
Phillips envisions City Racing meets as six races with eight runners over a straight five-furlong course. He plans to attract top international jockeys to compete for points throughout races on a city's locally-based Thoroughbreds.
Current potential locations include Melbourne's Collins Street and Singapore's Orchard Road. In the U.S., New York and Las Vegas are under consideration.
Phillips said he wants the City Racing meets to be "a full day out," meaning entertainment off the track and after the races. Sponsors, tickets, hospitality and betting would pay for the event. 
"I would say the likelihood of a City Racing event is more 70-30 than 50-50," Phillips told BBC Sport, "and I am probably being conservative with that."
City Racing is working with Andrews Bowens, the company that helped create equestrian and beach volleyball surfaces for the 2012 Olympics in London. The racetrack includes a synthetic surface with enough sand to support Thoroughbreds at race speed. The British Horseracing Authority would have to sanction the track, surface, sublayer and railings.
This track was trialed at Aintree Racecourse in November over a road in the centre of the track. 
"The surface has been rigorously tested and the feedback from jockeys and trainers has been positive," Phillips told BBC Sport.
"We are dealing with horses, who are athletes and injuries happen, but we have to make sure we put all the checks and balances in place.
"Equine safety is paramount. We have a veterinary advisory board and a gold-standard welfare framework."
??Bringing horse racing to the world's greatest cities ?????#CityRacing @AndrewsBowenltd @TheJockeyClub pic.twitter.com/Z4La7szOsr

— City Racing (@City_Racing_) January 16, 2019