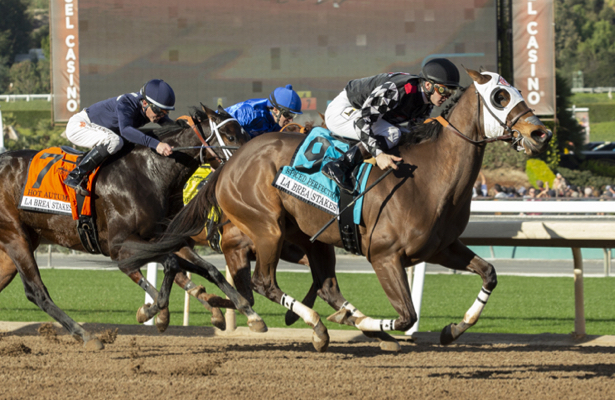 Photo: Benoit
Dream Tree
was tabbed as the one to beat in Wednesday's Grade 1, $300,000 La Brea Stakes
as she attempted to remain undefeated in six starts. But Spiced Perfection ended the Bob Baffert-trained filly's streak when she stormed down the center of the track to win the 3-year-old filly feature on Santa Anita's opening
day.

The La Brea marked the first graded
stakes attempt for Spiced Perfection, trained by Brian Koriner for Dare to Dream
Stable, LLC. The Smiling Tiger filly completed the seven furlongs in 1:23.54.

"It was a move up,
but when they're as good as her and doing as good as her, it makes my job easy,"
Koriner said.

Spiced Perfection led a California-bred exacta as Hot Autumn edged the other Baffert
trainee, Emboldened, by a head. But Dream Tree eased to last, with jockey Drayden Van Dyke saying, "I don't know what happened. She just came up empty."






Dream Tree was eager at the break and
grabbed the lead. The Grade 1 winner led the first quarter-mile splits in 22.68
and 45.68 with Happy Like a Fool to her inside and Hot Autumn to her outside. 

Spiced Perfection broke from the outside post under jockey Flavien Prat. The
pair sat off the pace as the three ahead of them vied for the lead. Emboldened
broke second to last but moved up the inside rail to take fourth early.
Heavenhasmynikki was in between Emboldened and Spiced Perfection while Kelly's
Humor trailed the field.

As three-quarters of a mile went in 1:10.47, Dream Tree lost the lead and faded
out of the picture. Spiced Perfection turned four paths wide and made her move
in the center of the track. She finished first by 1 ¼ lengths. 

Spiced Perfection, a full sister to Golden State Juvenile Stakes winner Cruel Intention, trained by Baffert, won three previous black-type stakes, including Del Mar's Betty
Grable Stakes last out. The La Brea improved her
record to 6-4-2 in 14 career starts. Both Spiced Perfection and Cruel Intention were bred by Premier Thoroughbreds LLC.
Spiced Perfection first sold for $6,500 as a yearling before Dare to Dream purchased her for $50,000 as a 2-year-old at the Barretts March 2017
sale. She now has earnings of $622,405.

Dare to Dream's Michael Faber complimented Koriner's training.

"Brian's being
a little modest," he said. "He's done an amazing job with this filly. The
campaign – keeping her in shape – she's not had a gigantic break and been sent to
a farm or anything.

"She's danced almost every dance, and he's got her ready for almost every
one of them."

Faber added that there is no target race yet for Spiced Perfection's 4-year-old
debut.