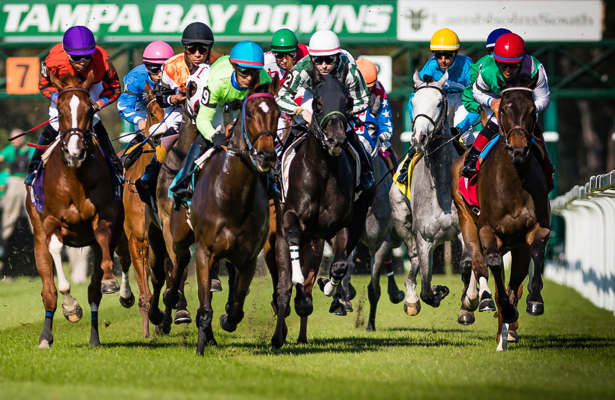 For a trio of former Tampa Bay Downs trainers, the cheers have faded to ghostly echoes – long-ago reminders of gallant Thoroughbreds speeding to victory and validating their career choice.
Scrapbooks and trophies relive their achievements, but nothing can replace the thrill of leading a horse to the winner's circle.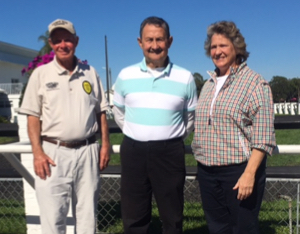 Carlos Garcia, Lori Smock and Ronnie Allen Sr. put in enough years training horses to leave the hassles and the heartbreaks behind without feeling remorse. But given their longstanding ties to the sport, it comes as no surprise that each is employed in racing after retiring from conditioning.
The 78-year-old Garcia, now the Director of Stabling at Tampa Bay Downs, still gets the itch to run his hands down a horse's legs and instruct an exercise rider how to work a horse. Understandable, considering Garcia sent out 1,354 winners over 44 years, including 146 stakes winners.
"I would love to work for one owner who is looking for a good trainer and can pay for all the help," said Garcia, who also works as a security person part-time at Amalie Arena in Tampa. "I don't want to deal with all the insurance and the workmen's comp and the paperwork.
"I stopped training (in 2014) because it cost me too much money. The last nine months I trained, my groom made $31,000 and after I cleared up everything, I made $12,900. I thought, what the heck am I doing? I'd be better off working as a groom."
Smock is now as Association Official at Tampa Bay Downs, working in the Racing Office each morning and reporting to the Press Box as a placing judge during the races. She had contemplated retiring from training the last several years, as many of her major clients scaled back their involvement.
After her most successful season in 2008, when she won 52 races with purse earnings of more than $700,000, Smock's business slowed year by year.
"Mari Hulman George (the long-time Indianapolis Motor Speedway chairperson, who died in November) was my big owner over the years, and when she and Novella Woodard started cutting back it got tougher to find owners," said Smock, who trained 710 winners over a 30-plus year career. "I'd gotten stepped on and had a plate and screws put in my foot the season before last, so a lot of things were leading up to making a change."
After finishing last season at Tampa Bay Downs, Smock, 58, went to work as a racing official at Delaware Park and has barely looked back. "I've enjoyed all parts of working in the racing office. No regrets – I had my time training, and I'm just happy something else became available," she said.
For a few years at Tampa Bay Downs, Smock trained in the same barn as Allen, who was just as well known through much of his career as the father of jockeys Ronnie Allen, Jr., and Mike Allen as for the outstanding runners in his barn. The 75-year-old Allen left training behind in the fall of 2017, working now as a member of the track's security detail.
"I had to have hip surgery the winter before last, so I either sold or gave away my last six horses," said Allen, who saddled 1,498 winners from 1976-2017. "My hip still aches sometimes, but I can play golf and walk pretty good. I miss training, but the people I work with are fun to be with and everyone gets along well.
"I feel comfortable here. I'm still getting up at 4 in the morning, and I like being at the racetrack when people are getting to work. When you love what you're doing, it makes it a lot easier."
Garcia, Smock and Allen each built successful training careers through a love of horses, attention to detail and the skill of knowing when and where to place their horses. And when they found the proverbial "big horse," they knew how to produce its full potential.
Garcia, a native of Argentina, came up as the son of successful conditioner Sabas Garcia. Hr achieved every trainer's dream in 1986 when he saddled Fobby Forbes for the Kentucky Derby; under Randy Romero, he finished seventh in the race won by Ferdinand and Bill Shoemaker.
Garcia also conditioned such standouts as multiple graded-stakes winners Brilliant Brass and Squan Song, who won 14 stakes and was voted top Maryland-bred filly or mare four consecutive years in the 1980s.
Among Garcia's other star performers were Action Andy, who won the prestigious Frank J. De Francis Memorial Dash in 2012 and captured three stakes at Tampa Bay Downs, and Valay Maid, a Grade 2 winner who finished third in the 1990 Breeders' Cup Distaff at Belmont.
Garcia, who divorced six years ago, lives in Clearwater. He has four children and three grandchildren. Action Andy is with his son Geoffrey, a blacksmith in Maryland, undertaking a new career as a show horse.
Smock, who owned about 25 percent of the horses she trained, campaigned a lot of hard knockers such as Mighty Patriot, a mare who dazzled Oldsmar observers in 2005 by speeding 5 furlongs on the turf in 55.81 seconds.
Her best horse was one she bred and owned herself: Allie's Event, a gelding who raced through his 11-year-old season. Allie's Event won 14 races, was second in the Grade 2 River City Handicap at Churchill Downs in 2011 and earned $491,042.
"I gave him the time he needed, which is why he raced as long as he did," Smock said. "He was one of my favorites because of what he gave you. He loved the attention and he loved his job. Every now and then, you come across a horse like him and they become your family."
Allen, who trained for years in Michigan, sprang to national prominence in 1994 when he trained owner Jerry Campbell's 2-year-old filly Post It to an upset victory in the Grade 2 Alcibiades Stakes at Keeneland. In her next start, she finished sixth in the Breeders' Cup Juvenile Fillies at Churchill. The following spring, she finished sixth in the Kentucky Oaks.
At Tampa Bay Downs, Allen owned and trained the Michigan-bred Above the Wind to three successive victories in both the Pelican Stakes and the Super Stakes. In the 2003 Pelican, Above the Wind paid $132.40 to win.
Allen, who entered the sport as a hot walker and groom at Waterford Park (now Mountaineer Casino, Racetrack and Resort) in 1958, won't say he never had a bad day at the racetrack, but they were few and far between.
"I always enjoyed working with horses and when you have some success, it really works out," said Allen, who lives in Clearwater with his wife Sharon. In addition to Ronnie, Jr., and Mike, he has two other children and five grandchildren.
On a typical morning, Allen might be found patrolling the receiving barn, signing in new arrivals at the stable gate entrance or manning the gap area where horses enter and leave the track during training hours. "If I'm at the gap, I'll keep an eye on things and contact an outrider if there's a loose horse. It can get kind of dangerous in the dark, but we have really good outriders who try to keep it safe for everybody," he said.
For each of the former trainers, the racetrack environment was a place they wanted to return to throughout their adult life.
"People on the racetrack are different than people anywhere else. It's a whole different atmosphere," Garcia said. "You have to love horses to be in this business, and you have to accept the challenge of taking care of them and getting them to compete."
"I don't have a lot of experience doing anything except training horses," Allen said. "But it gave me experience working with people and having respect for people, because if a trainer treats his people right, they work hard for you. And you need that, because no matter how good you're doing in this business, the next year can bring you down in a hurry."
Smock, who is single, has no relatives in the sport and was never around animals as a youngster. But she enjoyed the competitive aspect of team sports in high school, and she gravitated to racing in 1986 while in her third year of pharmacy school. She got her license at Penn National at 27 and built her business painstakingly, taking time with each horse to ensure they were fit and ready.
"I had a lot of great teachers, but you just learn as you go," she said. "I got attached right away because it's a physical sport, and I was a sports-minded person all through high school. I have a lot of mares I bred whose babies are still running, and that gives me a little added interest and is kind of exciting to watch.
"I always said when Allie's Event finished racing, I was going to retire. I had already cut back dramatically, and it was time to move on," Smock said.
"One of the toughest parts (of training) was the traveling. People ask you, 'Where's your home?' Well, sometimes my home was where my car was. The lifestyle makes it tough to form lasting relationships, because every six months it's time to move again."
Smock finds the pace in the racing office and the placing judges' stand to her liking. "I'm sure training all those years is a help, because you know the ups and downs trainers go through," she said. "You have a feeling for what they deal with when their races don't go.
"It's been a good changeover for me. At first, the difficult part was sitting behind a desk and not doing the physical part of the job the way I used to, being outside every day. But I enjoy still being a part of the horse racing business and working with everyone in the racing office."
Smock, who also wasn't used to having two days off every week, fills her "idle" hours with golf, exercising at Planet Fitness and tack repair, a side job she picked up at Delaware.
Allen also spends time on the links, a pursuit Garcia gave up a few years back due to rotator-cuff issues. Mostly, the three are drawn inexorably to the track and its variety of characters and stories that link everyone from hot walkers and grooms up to multi-millionaire owners.
Within the close-knit world of the racetrack, their jobs – Association Official, Security, Director of Stabling – are integral to the smooth operation of Tampa Bay Downs.
But none of the three former trainers are under the kind of pressure or scrutiny their former job entails. They have been through enough to know the sun will rise tomorrow, and to use that knowledge to bring a little sunshine to someone going through tough times.
"I'm a happy person, and I'm a people person," Garcia said, speaking for his colleagues. "I enjoy being on the racetrack again, seeing some of the old trainers and talking about the ones who have disappeared.
"I miss not being around the horses, but I can deal with whatever comes along because I get along with everybody. You have to know how to treat people."