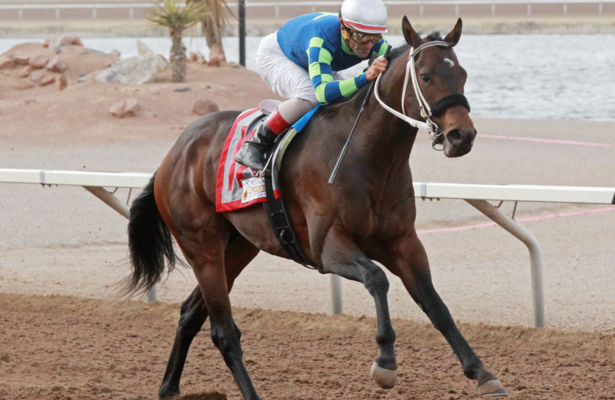 Photo: Coady Photography
Away since winning the Sunland Derby (G3) last year, Runaway Ghost is entered to make his return in the $75,000 Ft. Bliss Stakes at Sunland Park on Saturday. The Ft. Bliss is six furlongs for 3-year-olds and up, and Runaway Ghost is the 8-5 morning line favorite in the seven-horse field. 
The 4-year-old Ghostzapper colt, a homebred for Joe Peacock, was training toward a start in the Kentucky Derby last April when he exited a workout at Sunland Park with a fractured cannon bone. He rehabbed at Crystal Springs Farm in Tularosa, New Mexico, before returning to trainer Todd Fincher at the track.
"He's given us no indication to worry since he's been back," Fincher said. "We've taken it extremely slow with him. We know the future is bright for him, and we just didn't want to risk any new injuries."
Runaway Ghost is already a three-time stakes winner. While in training with Michael Machowsky at 2, he won the six-furlong Golden Nugget at Golden Gate Fields by 7 1/2 lengths over the synthetic surface. When transferred to Fincher at 3, he was a force in Sunland Park's 3-year-old races. 

The colt started with a 7 ¾-length score in the one-mile Riley Allison. He was then second in the Mine That Bird Derby at 1 1/16 miles. Although he was beaten 2 ½ lengths by the Steve Asmussen trainee Reride, it was 15 ¼ lengths back to third. Runaway Ghost then stretched out to 1 1/8 miles in the Sunland Derby and rallied to win by 2 ¾ lengths, beating Dream Baby Dream, Peace and Seven Trumpets.

"You have high hopes and dream of the biggest races, but we're going to run him a couple times and see how he does," Fincher said. "We'll let him take us where we're going. We're not going to force anything upon him. If he shows us he needs to go to the next level, that's exactly what we'll do."

Runaway Ghost last breezed  on Saturday at Sunland Park, working five-eighths of a mile in a minute flat. Minus a few disruptions from rains and drying out tracks, he's been working regularly since late October. 

He'll be ridden by jockey Santiago Gonzalez in the Ft. Bliss and will break from post No. 6.

"He's a really nice horse," Fincher said. "You expect a big race from him, but also it's been 10 months since he's run – over 10 months – so it's hard to say. But I'm pretty confident he'll run a big race."

Black Ops is the 5-2 second choice. The 6-year-old gelding made an appearance on the 2016 Kentucky Derby trail when he ran in the Smarty Jones Stakes. He won a six-furlong allowance at Zia Park in December and lost by a neck at the same distance at Sunland Park this month. Black Ops will leave from post No. 2 with jockey Luis Contreras. 

Secular Nation (3-1) is the only other 4-year-old colt in the field. He has made only two career starts, both of which were over the summer at Albuquerque. He won the Duke City Sprint Stakes by 7 ½ lengths, then stretched out around two turns in the Charles Taylor Derby, where he lost by a length. It was another 14 ¼ lengths back to third. Secular Nation drew post No. 5 and will have Ry Eikleberry aboard.

Cowboy Cool (6-1) is experienced on the New Mexico circuit and has hit the board 16 out of 27 times. The 6-year-old gelding will try to get back in the money after running fourth in three consecutive races. He'll depart from post No. 4 with Miguel Perez.

Rounding out the field is Valentine Divine (10-1), who won a 6 ½-furlong allowance last month at Zia Park with jockey Francisco Amparan from the one hole; Coils Gold, third going six furlongs in a Sunland allowance optional claiming this month with Elvin Gonzalez from post No. 3; and Wake Up in Malibu (8-1), winner of the Saginaw Stakes for New York-breds in 2016 with Roimes Chirinos from post No. 7.