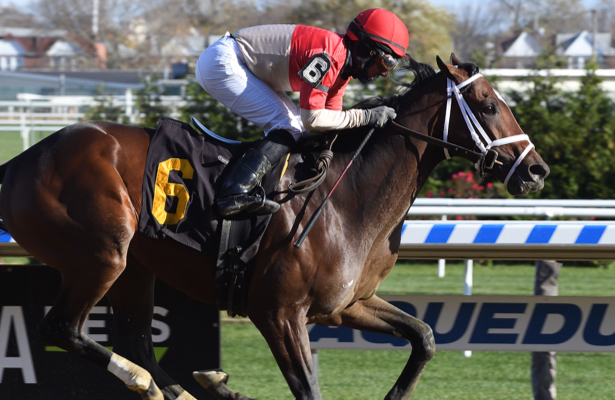 Photo: Courtesy of the NYRA
In recent years, the Florida Derby (G1) has served as an especially strong last prep for Kentucky Derby hopefuls, as 2016 and 2017 saw Nyquist and Always Dreaming, respectively, sweeping both races. They followed Orb in 2013 and Big Brown in 2008.
Before digging deeper into this year's contenders, note that Fountain of Youth (G2) winners traditionally fare will running back at Gulfstream Park, and it's no secret that the main track there usually offers a speed bias.
Only two stalkers have won the Florida Derby in 10 years. Both chased the speed through 23, 46 and 1:10 type of early fractions. The starting gate for the 1 1/8 mile race is within strides of the first turn, so outside posts are the kiss of death for most horses, especially those with speed. Only two colts in the last decade have won from an outside post.

Can Code of Honor complete the Fountain of Youth/ Florida Derby double, or will someone claim those 100 points toward the Kentucky Derby and a trip to Churchill Downs?
Laurie Ross and Ashley Tamulonis once again go head-to-head looking for a winner.
 
 
Laurie
 

 
Ashley

Hidden Scroll — He stumbled at the start, then drag raced through swift early fractions, only to tire and finish fourth in . the Fountain of Youth. The son of Hard Spun has the pedigree to love classic distances, but his front-running ways won't get him there. Mott has been rating Hidden Scroll behind horses, and the colt doesn't seem to have issues with it. But race day can be another matter. A jock switch to Castellano may help. If they can avoid a speed duel, Hidden Scroll should have a legit chance. Contender.

Hidden Scroll — The Fountain of Youth was supposed to be his coming out party, but as Laurie pointed out, Hidden Scroll ran into trouble. Gulfstream favors his run style, and he drew the rail. So long as he does not engage in a speed duel again, he could take the field all the way. Contender.

Current — This is an odd spot to see if a horse who has been competing on turf will take to fast dirt. Current breezed in company with eventual Sunland Park Derby (G3) winner Cutting Humor on March 9. This muscular chestnut colt with the flaxen mane wasn't moving as smoothly, although he held his own on the inside of his stablemate. Note that while Castellano jumped off, Manny Franco is a suitable replacement. He and the silver fox have hit at 56 percent over the last three months. Lots of unknowns here, except the fact that Pletcher has captured four of the last five editions of the Florida Derby. Exotics.

Current — It seems like it's awfully late in the game to figure out whether your charge is Kentucky Derby-worthy after running nearly exclusively on turf. As Laurie said, Current does have the pedigree to be good on dirt; however, he was well beaten well in his only attempt over the surface. The track was sloppy that day, and he may improve on a fast going. An exotics placing is possible.

Harvey Wallbanger — This son of Congrats has an iffy pedigree for 1 1/8 miles, but his closing running style and talent might get him there, especially if there's a speed duel up front. Surprisingly, he was out-worked by stablemate Signalman in a second-to-last breeze. Contender.

Harvey Wallbanger — He won the Holy Bull, but who did he really beat? With the exception of Maximus Mischief, it looks like no one. I'm not saying it was a fluke, but he benefitted from an ideal setup. Perhaps he will get up for a minor placing here.

Bourbon War — In the Fountain of Youth, the Mark Henning charge closed off a swift early pace only to miss the victory by less than a length. His final 1/16 of 6.48 was the quickest in the race. If Irad Ortiz Jr. can keep him a little closer, they can celebrate with a toast after the race. Contender.  

Bourbon War — I was very impressed with his effort in the Fountain of Youth. A little more distance and he would have nailed the winner. With the extra sixteenth in the Florida Derby, he could certainly benefit. Definitely a contender.

Everfast — The inconsistent Everfast looked good getting up for second in the Holy Bull, but his far outside post in the Fountain of Youth did the son of Take Charge Indy no favors. He has the pedigree, and his Holy Bull finish was pretty good. Could be a live longshot.

 

Everfast — This colt has proved tenacious at times, but the problem is that he is far from a lock to do anything of worth. Yes his Holy Bull effort was nice, but what happened in the Fountain of Youth? He could end up a bust again, and I'm not taking chances here. Pass.

Hard Belle — Another poor placing by trainer Jaime Mejia. I'll still with the rule I learned from watching Thumper in the movie Bambi. "If you can't say somthin' nice…don't say nothin' at all."

Hard Belle — No fair, Laurie! I'm the one that's supposed to insert Disney quotes. Let me just say that I agree. Hard pass.

Maximum Security — The 33 percent trainer Jason Servis has an untested live one in the Florida Derby. This swift colt is used to setting fast early fractions, but can he carry his speed an extra quarter mile?  Sire New Year's Day hasn't produced a stakes winner beyond 1 1/16 miles. Damsire Anasheed's offspring, and that of his daughters, are sprinters. However, Maximum Security's dam is a half-sister to multiple Grade 1 stakes-winning handicap horse Flat Out.  Maximum Security is stepping up, stretching out, and will likely have company on the front end. Maybe he can hang on for a piece.

Maximum Security — He's undefeated, but he also has not been tested at a route distance, not by lower-class rivals. Servis shows a high sprint-to-route percentage, but I'm not sure I would have experimented here. Maybe he'll get a piece of the pie. Or maybe given his speed, he'll help a closer steal the dessert.

Bodexpress — Gustavo Delgado's charge is still a maiden, has a good-bad race cycle going on, and hasn't hit the board past seven furlongs. See comments for Hard Belle.

Bodexpress — I have no idea why this colt is in this race. This is a serious jump up in class for a colt that hasn't even broken his maiden yet. Thanks, but no thanks.

Code of Honor — After that snafu in the Mucho Macho Man, Code of Honor showed us what he's got in the Fountain of Youth. This time around, the task might be tougher. Breaking from the outside means he'll be wide most of the way, unless Johnny Velazquez can tuck in down the backstretch. Shug McGaughey's charge couldn't be training any better. Contender.

Code of Honor — The son of Noble Mission got his breakout win in the Fountain of Youth but is only the second choice on the morning line behind Hidden Scroll here. Granted that rival isn't stuck outside, but it's hard to deny the talent of this colt. It's a good time to have Velazquez aboard. Contender.

Union's Destiny — This colt can't earn a break. He was wide in the Fountain of Youth, and he'll be wide again in the Florida Derby. When they come around the far turn, be sure to give the jock a high five. If he had a more favorable post position, he might have been worth an exotics play Pass.

Union's Destiny — There's nothing here to recommend this colt to me as a winner or a good exotics play. Participation ribbon at best.

Garter And Tie — This nice sprinter/miler can make some noise later this year when the big boys move on. Pass. 

Garter and Tie — This son of Brooks 'n Down fit in the state-bred restricted races but has not fared as well in open company. He's from the family of sprinter Jackson Bend, so I don't think the nine furlongs is really his forte.
  

Final Thoughts

Laurie: The Florida Derby distance separates the talented sprinter/miler types from the middle/classic distance horses. Hidden Scroll, Bourbon War, Everfast, Code of Honor and Union's Destiny are stakes horses who should handle 1 1/8 miles. Harvey Wallbanger is a little light on pedigree, but his running style and talent could carry him that far. Current is another who should get the distance. Could the talented sprinter Maximum Security stretch his speed? Sure, if he gets away with a huge lead in the stretch or re-breaks for a high-percentage trainer.  I'll probably regret leaving Harvey Wallbanger and Current out of my top four, but I neither liked Current's up-and-down movement on dirt nor how Harvey showed total indifference to Signalman getting the best in the breeze — although maybe Harvey's just a smart horse who knows the difference in the afternoon.

Ashley: This is where we separate the boys from the men. Who can get the distance, and who's just a pretender on the trail? Juddmonte Farms  is known for their homebred routers, and Hidden Scroll hung around decently in the Fountain of Youth. Bourbon War hails from the family of Grade 1 winner My Conquestadory, who was adept on both surfaces. With this is an intriguing matchup of different-styled runner, I'm eager to see how Hidden Scroll performs with a better trip.

Selections

Laurie                                                 Ashley
#4 Bourbon War 7-2                         #4 Bourbon War 7-2
#9 Code of Honor 3-1                       #1 Hidden Scroll 5-2
#1 Hidden Scroll 5-2                         #9 Code of Honor 3-1
#5 Everfast 20-1                               #7 Maximum Security 9-2