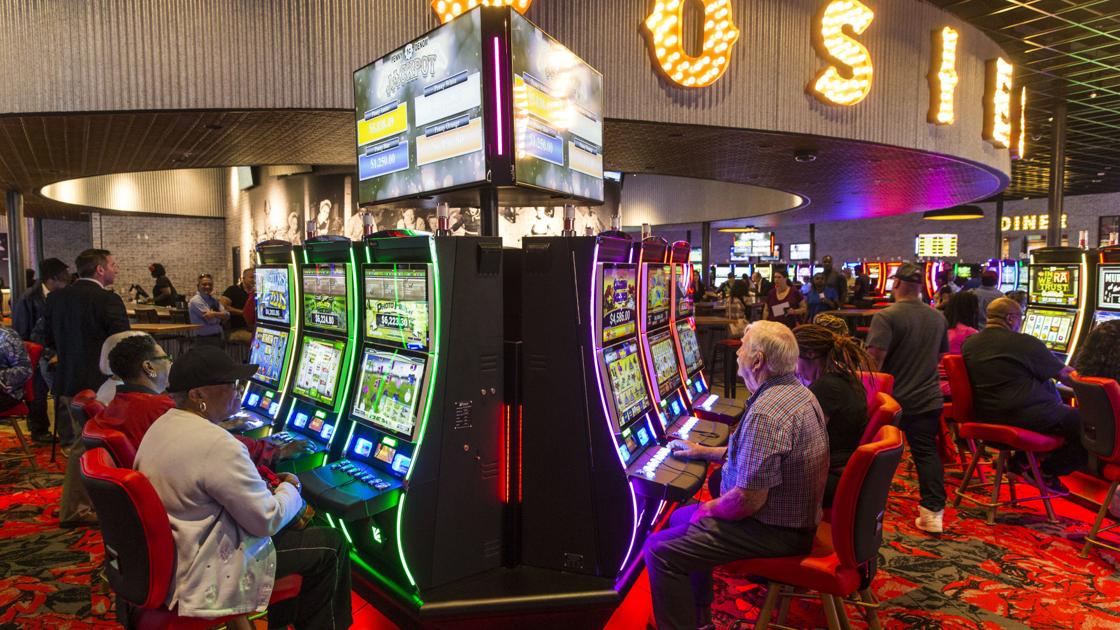 From reading the state's most recent revenue report, it's clear that wagers placed on live horse races isn't where the money's at when it comes to the new off-track betting parlors that Colonial Downs Group is opening across the state.
The new parlors, called Rosie's Gaming Emporium, have popped up in Richmond, New Kent County and Vinton this year and one is proposed for Danville, provided residents support the move in a November referendum that asks whether pari-mutuel betting should be allowed in the city.
Each parlor offers the chance to bet on simulcast horse racing from tracks throughout North America. In July, players wagered a total of $3.3 million in the three Rosie's plus the four older parlors taken over by the company, with $2.4 million in prizes paid out, according to the Virginia Racing Commission. Colonial Downs Group, which bought the New Kent County horse track of a similar name in 2018, grossed roughly $728,000 in the process.
But the backbone of the off-track betting sites appears to be the historical horse racing terminals — with flashing lights and spinning, multi-colored digital display, it's the closest thing to a Las Vegas slot machine legally allowed in Virginia. Players bet on past horse races, using either skill to pick an anonymous horse based on the statistics provided or by simply dropping in money — wagers placed run anywhere from 20 cents to $15 a game — and pushing a button, much like with a casino slot machine. The payout can reach as high as six figures. And they are found on in the Rosie's locations.
By the numbers
| | |
| --- | --- |
| Historical Horse Racing | |
| Vinton Wagers | $22,590,849 |
| New Kent Wagers | $48,973,176 |
| Richmond Wagers | $71,224,979 |
| Total Wagers | $142,789,004 |
| Total Prizes Paid | $132,600,440 |
| Gross Commission | $10,088,042 |
| | |
| Simulcast | |
| Total Wagers | $3,334,452 |
| Total Prizes Paid | $2,424,858 |
| Gross Commission | $728,026 |
| | |
| Taxes and Industry Payments | |
| Virginia State Tax | $1,131,373 |
| New Kent Tax | $496,375 |
| Vinton Tax | $57,414 |
| Richmond Tax | $181,569 |
| Henrico Tax | $2,863 |
| Chesapeake Tax | $3,884 |
| Collinsville Tax | $1,235 |
| Racing Industry Payments | $20,067 |
| Total | $2,074,780 |
| % of Gross Commission | 19.18% |
| | |
| Total Net Commission | $8,741,288 |
| | |
| Key Statistics | |
| Avg. Number of HHR Terminals | 1,450 |
| Days of Operation | 31 |
| Average Daily Wagers | $4,606,097 |
| Average Daily Wager Per Terminal | $3,177 |
| Gross Commission Per Day Per Terminal | $224 |
Last month, there were a combined 1,450 historical horse racing machines operating in the three Rosie's. In that time, players wagered a total of $142.79 million on the machines, with $132.6 million in prizes paid out. Colonial Downs Group grossed roughly $10 million in the process.
Per day, that translates into the average machine having $3,177 in bets placed on it while grossing an average of $244.
The payoff can be just a lucrative for the localities hosting each parlor as it can be for the players. The money grossed at each facility is split between Colonial Downs Group, the racing industry, the state and the host city or town. For the month of July, New Kent County took in $496,375 in taxes, Vinton took in $57,414 and Richmond received $181,569 while the state garnered roughly $1.1 million. After taxes and racing industry payments, Colonial Downs Group netted roughly $8.74 million.
It's no accident that a moneymaker like historical horse racing came to Virginia. The Virginia Equine Alliance, which represents various horse breeding and horse racing groups and industries in the state, zeroed in on the electronic wagering system in 2017 while brainstorming ways to bolster the industry. According to the equine alliance's strategic planning report, historical horse racing is a "top priority for generating significant new revenue."
"It helps us fund a lot of things we do," said Debbie Easter, president of the Virginia Equine Alliance. "It's allowing us to do incentive programs to bring horses from out of state to our farms."
One incentive program — for a thoroughbred horse that boards or trains for six months in the state before it's 3 years old and wins a race in the mid-Atlantic region — provides a 25% bonus on top of the winning purse, Easter said.
Those revenues also help fill purses — money prizes for winning horses — at places like Shenandoah Downs in Woodstock.
Another priority mentioned in the equine alliance's strategic planning report was the revival of Colonial Downs in New Kent County — Virginia's only flat track horse racing venue. Located roughly 30 miles east of Richmond, it closed down in 2014 following a contract dispute between then-owner Jacobs Entertainment, based in Golden, Colorado, and the Virginia Horsemen's Benevolent and Protective Association, which represents thoroughbred horse owners.
In April 2018, the Chicago, Illinois-based gaming company Revolutionary Racing bought Colonial Downs for slightly more than $20 million with plans to reinvigorate the state's betting industry. It took over from the equine alliance the four off-track betting parlors already in operation. Two parlors are located in Richmond, one is in Chesapeake and the other is in Henry County. While each parlor features simulcast horse racing, none of them has any historical horse racing machines. Those, it appears, are reserved for the Rosie's off-track betting parlors.
Earlier this year, the company contracted with Exacta Systems, out of Boynton Beach, Florida, for just under 3,000 historical horse racing terminals by mid 2020. Soon after, it opened a Rosie's at the flagship site in New Kent and another at a former Colonial Downs off-track betting parlor in Vinton. The company also invested $41 million to transform a vacant Kmart in Richmond into a Rosie's with hundreds of the casino-like machines, a bar and gift shop, and a 100-seat restaurant.
If Danville voters were to approve pari-mutuel betting in the city and a site were located here, the project is estimated to bring about 150-200 jobs with an average annual salary of $40,000 plus benefits, Colonial Downs Spokesman Mark Hubbard said.
Gov. Ralph Northam signed legislation in 2018 legalizing historical horse racing. Following that, the Virginia Racing Commission adopted emergency regulations governing how historical horse racing would be regulated.
Those rules included a statewide cap on machines across the state — 3,000 — and a limit on the number of machines allowed in a given locality based on its population.
Under the regulations, up to 700 terminals are allowed in a locality with 120,000 or more people, like Richmond; up to 300 within a population between 60,000 and 120,000; and up to 150 for jurisdictions with 60,000 or fewer, like Vinton and Danville.
In addition, the rules require that the local governing body — such as a City Council or board of supervisors — formally approve installation of more than 25% of the limit for that locality.
With Danville's population at around 41,000 or 42,000, it would be limited to 150 historical horse racing machines or less if voters were to approve off-track betting.
When asked if Colonial Downs hoped to bring 150 machines to Danville, Hubbard did not mince words.
"Under the current rules, yes," he said.
David Lermond, head of the Virginia Racing Commission, said there are no plans that he knows of to increase the limits on the number of machines.
"I'm not aware of a push to expand that," Lermond said, adding that regulations are still in the process of being finalized.
Hubbard said Colonial Downs is gradually introducing historical horse racing terminals to various markets — 600 in New Kent last April; 150 in Vinton this past May; and 700 in Richmond last month.
"Another 700 is planned for Hampton in the fall," he said.
That is a total of 2,150 so far, factoring in the ones hoped for in Hampton.
"Each new location provides additional local jobs and tax revenues to both localities and the state," Hubbard said.
In a separate matter, Virginia is also conducting a study on casinos, with the possibility of referenda in 2020 in certain localities — including Danville — on whether to allow casinos.
When asked if Colonial Downs' goal was to get as many historical horse racing machines in the state before casinos open up and provide competition, Hubbard said, "It is premature to speculate on what the General Assembly will do in January."
Colonial Downs is the only entity right now that can operate satellite wagering facilities in the state, Lermond said. There is a limit of 10 such sites allowed in Virginia.
"The only way you could expand it would be by the General Assembly having a bill," he said.
Lermond said he was not aware of a push to expand that number.
If caps were raised, that would mean more money for horse races and more inventiveness for horse breeders, Easter said.
"We hope, eventually, once it's up and running [historical horse racing] that eventually we can use that money to help other parts of the horse industry," she said.
Crane reports for the Register & Bee. He can be reached at (434) 791-7987.