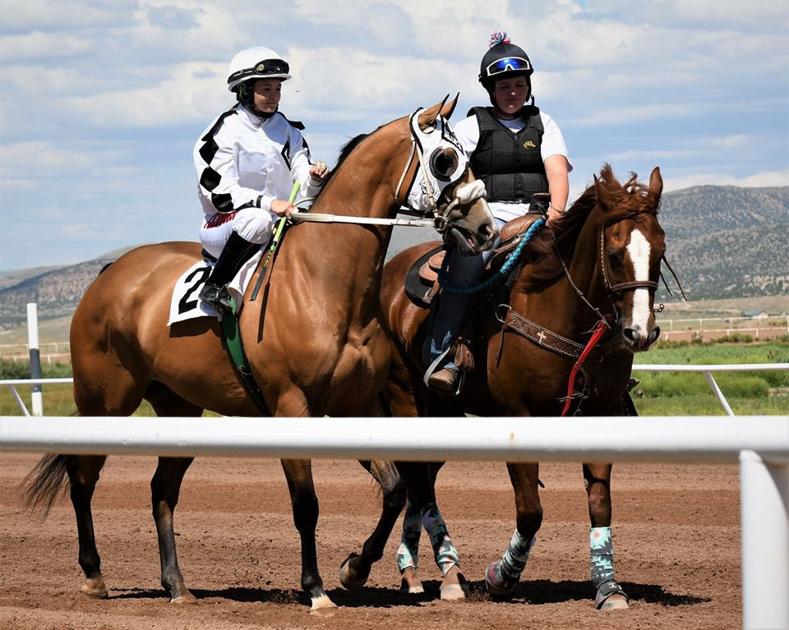 BLACKFOOT – Well, horse racing fans, the Eastern Idaho State Fair is back and in full swing as we bring you what's happening at the races this year. We will talk about the races on Sunday and Monday, and there are some dandies.
Today, for instance, we will have trials for the John Deere AQHA Juvenile Challenge and they will be trying to qualify for the $50,000 finals which will be held in Pocatello in September with the winner of that race advancing to the National John Deere AQHA Juvenile Challenge in New Mexico. That is quite a feat for a horse from this part of the country.
Also on the eight-race program will be a couple of Thoroughbred Allowance races to spice up the action, so let's get right to the picking of the winners for your entertainment only.
Race One – Thoroughbred Claiming race at five furlongs for a $1,600 purse.
This four-horse dash features three horses who last raced at Great Falls, Mont., and one horse from Grants Pass, Ore.
The horse who has the best past performances appears to be the number one who will be piloted by Blackfoot's own Nakia Ramirez, so let's get the day started with a win for Nakia and her steed, Afleetasha. Seems like the thing to do. Jonathan's Star appears to be the second best in the field and third will be Green Beret who raced here last year.
Race Two – This is the first of the trials for the Juvenile Challenge and the best horse looks like the number four, Meghans Feature Sign. This horse has won twice already this year and is the leading money earner in the field, but lost its rider in the finals in Malad a couple of weeks ago. If she is okay, then Eric Ayala could be in the winners circle Sunday afternoon. Second looks like RTM Good Enough and third will likely be Sables Dashin.
Race Three – The second of the Juvenile Challenge trials may be the toughest race on the program. The logical choice is number five, Pyc Lovestruck, who has earned over $18,000, but has not won a race. She has made the finals of two big futurities, but hasn't been to the winners circle yet. Another logical pick would be Brilliant Cut Cartel, but he gets the inside post. He is a winner and has earned over $11,000 and gets Jesus Canales to ride. Third choice is Tell Tac, a second horse from the powerful Monty Arrossa stable who could get jockey Eric Ayala his second win on the afternoon.
Race Four – Heswatchingoveryou will break from the inside post with jockey Oscar Cervantes aboard and has earned over$38,000, by far the leading earner in the trials. He won the Bitterroot Futurity in Idaho Falls back on July 4, and is easily the most accomplished horse in the field. Mothers Favorite and Sheza Tacy Gator figure to battle it out for second and third in here and either would be a good pick to complete the quinella or exacta if you are inclined to wager on them.
Race Five – This 350 yard Allowance race features seven pretty evenly matched horses and so I will go with the outside horse, CM Smokin Ocean and jockey Nakia Ramirez. (Always go with the local star jockey if in doubt) His last two races have been solid and he appears to be sitting on a big race as he makes his local debut. Serenity West and jockey Jesus Virgen will thre to make it two in a row for trainer Skyler Greene, having won his last race at Malad. For third, take BR Stormcarvin with jockey Raphael Romero and Trainer Tony Hyde.
Race Six – This six horse field of Thoroughbreds at six furlongs has the look of the feature race of the day, so we will go with the horse that has been in the toughest races all season long and that would be Lookn At the Sky from local trainer Kash Evans barn. He gets Nakia Ramirez to ride and has been with top notch competition at Sun Ray Park in New Mexico and Wyoming Downs. Looks like his race to win or lose. Real Windy gets the inside post position and looks like he might like more distance, but that only means that he will be ready to pick up the pieces in the stretch if it comes down to that. Fast as Thunder is from local trainer Joey Atwood's barn and could be the big surprise in this race.
Race Seven – This race has the most entries of any race on the program on Sunday with eight. It is also the most competitive race on the program. Recent success is always a good thing in a race like this, so we will take Shes Alright Now with Nakia Ramirez aboard for trainer Paul Greene. Likely the winner so go with it. For second, lets take Questionable Move who has five straight in the money finishes to his credit. For third, how about Darkmoon Deluxe.
Race Eight – Trainer Kash Evans sends out jockey Nakia Ramirez and Roman Music to try and win the nightcap on Sunday. He comes to the race off of a winning effort at Wyoming Downs, so why not. For second, Show Me Bofum has won two straight races in Great Falls and figures to be tough and for third how about Flashe's Big Boy to round out the trifecta. Good card for Sunday, so have some fun and some great racing luck to go with it.
Monday is a fun day for real horse racing fans. Half of the eight races will be Thoroughbreds or mixed Thoroughbred races that are going at least one lap around the Fairgrounds half mile oval. Makes for better racing and definitely a better mix of racing for the fans to wager on.
Race One – We will kick things off with a Quarter Horse race at 330 yards for horses that have not won a race this year. The trick in here is to figure out who the race may have been written for and it is pretty obvious that it is the number four horse, Dashair Special. In three races, this horse has a second, but overall, he has four wins from 12 starts and over $23,000 in earnings That is a pretty big edge and when you throw Nakia Ramirez in as the rider. Could be a slam dunk. For second, take Kissin Kate Barlow and for third, a nice little horse named Wait.
Race Two – This race has all the makings of being a Nakia Ramirez Daily Double as she is named on the favorite and logical choice in He Looks Royal from the Mark Hanson barn of runners. This horse hasn't won this year, but he has earned over $3,400 and has been very close on occasion. His last win came during the fair a year ago, so he likes the track. For second, take Kj Fyre, who has done a little bit of everything and figures to be right there. For third, Candelaria who is coming off a win and shows that he in top form right now.
Race Three – The first Thoroughbred race of the day will go six furlongs and looks to be pretty wide open. The winner should be the number two horse, Jonathan's Star, who is the only winner in the field.
He faces five horses who have never won a race and that is a decided advantage. Look for him to go to the front and everybody else will be running for second place. Second will be Classy Vintage who is shipping in from Great Falls, Montana and at least he shows that he can run with this bunch. Third should be Tuff Talkin Texan who last raced in July in Seattle.
Race Four – The fourth race is all about a horse named Mrshakey. This is his favorite distance and he has the ability to outrun Quarter Horses at 870 yards, so look for him to go to the front and open up some distance between him and the others. It is also Nakia Ramirez's favorite horse and she is named up on him in what could be her third win in four races on the program. For second I like Carson's Fireball who can run virtually any distance and is coming of a couple of second place finishes in his last three races. He should be pretty tough. In third will be Daisy Creek, a tough, old, hard knocking gelding that can run any distance from three furlongs to six furlongs and fits right in there in this race.
Race Five – A field of five Quarter Horses will sprint 350 yards in the fifth race and they are headed by another horse from the Mark Hanson barn and ridden by Nakia Ramirez. If she wins this one, it will be four wins in five races on what could be a very good day for the young rider. Best Bye is the horse and when they spring the gates, that is just about what he will say to the rest of the field, bye bye y'all. If there is trouble at the start, then the horse that might just take advantage of it will be the five horse, Be Classy Champ, who has been on the board in four of his five races this year. For third, I like the four horse Dr. Dredge. He has the looks of an upsetter, so don't leave him out of your exotic wagers.
Race Six – The Good Old Boys Stakes at six furlongs is wide open and has a nice mixture of horses that have done just about everything from sprinting to routing and that should give a very narrow edge to Tribal Jewel and you guessed it, jockey Nakia Ramirez. She will likely get 'Jewel' out in front and dare everyone to catcher her. Forseoncd, maybe Lil' Apollo who just keeps bringing home a paycheck. Eight out of thirteen races, he has finished first, second or third and should do it again in here. For third, let's go with No Way Out who won his last race and could just be the sleeper in here that will make a big difference.
Race Seven – It is beginning to sound like Nakia Ramirez is the only jockey in Blackfoot this weekend, but she is on a bunch of really nice horses and the seventh race is no different. She picks up the ride on Rob That Wagon, who is on a three race win streak and hasn't been worse than second all season long and has over $23,000 in winnings this year alone. Stellar Cartel has won three of five races this season, so if 'Wagon' takes a bad step, Stellar Cartel will be there to pick up the pieces. For third, it will likely be a tough old eight year old named Be Our Honor. The will break from the number two hole and might just upset the whole field.
Race Eight – The featured race of the afternoon is the "Bill Wallace Memorial" and will go six and one half furlongs. Heading the field will be Olimpio's Scat Cat, who is riding a two race win streak and guess what, he gets the riding services of jockey Nakia Ramirez as well. This seven year old can run any distance from 5 furlongs to a mile and just came off a big win in Au Revoir handicap at Wyoming Downs going a one mile distance. He definitely should be tough in here. For second, I like the chances of Conquest Daddyo, another who is shipping in from Great Falls, Montanat and was claimed for $3,500 from the Mark Hanson barn with this race in mind. Usually when you claim a horse with a race in mind, it just works out for you and that could be the case in here. I like Show Me Bofum for third. He is entered to run on Sunday and you would be surprised how many times I have seen horses win on consecutive days. It just seems to get them ready to run when they run the day before. It used to be very common to see horses run back to back days and a horse like this is just why a trainer will do it. He is capable of winning both days in Blackfoot.
Well, that wraps up our selections for the opening weekend of racing at the Eastern Idaho State Fair. Be sure to check in with how we did on Tuesday when the results will be posted in the Chronicle and an analysis of my handicapping ability to boot.
Good luck to you all and may you choose your ponies wisely all weekend long!