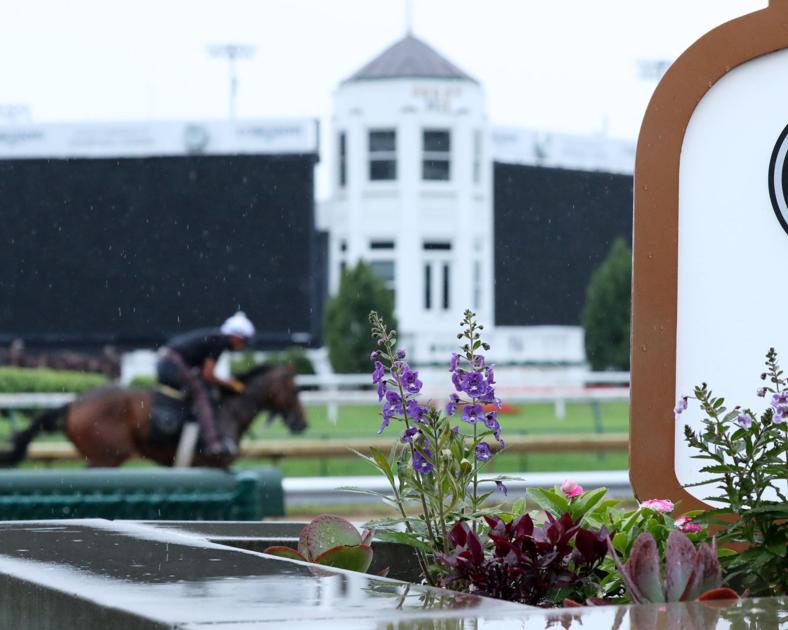 LOUISVILLE — At 5:29 a.m. Wednesday morning, outrider Lee Lockwood radioed a much-anticipated announcement.
"We are open for business. Gap Attendants, you can open the track," Lockwood said.
Moments later, training resumed at Churchill Downs for the first time in more than five months. The first horse on the track was Kentucky Derby contender Major Fed, who arrived from Fair Grounds on Monday. Several other trainers, including Steve Asmussen, Jimmy Baker, Phil Bauer, Buff Bradley, Bret Calhoun, Mark Casse, Brad Cox, Neil Howard, Michelle Lovell and Dallas Stewart, had horses that hit the dirt.
"It's a relief to be home," said Lovell, who lives a short distance from the Downs' backside but has traveled the last six weeks to Lexington's Ashbrook Farm where she moved her horses from Fair Grounds. "It was tough traveling back and forth every day to Lexington but we got through it and can see the light at the end of the tunnel."
Lovell, like many other trainers, has experienced some financial hardships without racing in Kentucky for nearly six weeks.
"It's been tough on us all but we are so thankful racing is back at Churchill Downs," said the former jockey, who has two horses — Nice of Me (Race 3) and Miss Bigly (Race 4) — entered for Saturday's opening day program.
Horses from Florida began to arrive Wednesday, as well. As of 11 a.m., there were more than 500 horses on the grounds. The phased-shipping process will continue through next week.
First post for opening day, which will be spectator-free, is 1 p.m. Saturday. Among the highlights of the card will be the return of former Kentucky Oaks champion Monomoy Girl, who will compete in Race 4 (2:32 p.m.). The Breeders' Cup Distaff winner was among 14 horses that arrived Tuesday for Cox. Among the other horses arriving for Cox were stakes winners Dot Matrix and Factor This.
Other top horses currently based on the grounds include likely Stephen Foster contender By My Standards; multiple graded stakes winner Spiced Perfection and potential future star Volatile, who earned a stout 120 Brisnet Speed Rating for his sizzling 7 1/2-length allowance win on April 24 at Oaklawn, where he covered six furlongs in 1 minute, 8.48 seconds.
Training hours, 5:30-9 a.m. continue through Friday with a renovation break at 7 a.m. On Saturday, training will switch to 5:30-10 a.m. with two renovation breaks at 7 a.m. and 8:30 a.m. Weather permitting, turf training will be on Sundays and Tuesdays.