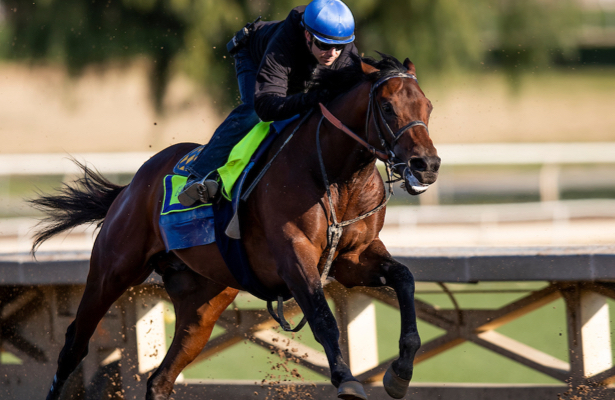 A plane carrying the West Coast's contenders for Saturday's Rebel Stakes (G2) arrived Wednesday morning in Arkansas, and with it came confirmation that the field has split for Saturday's 2019 Kentucky Derby prep.
Jennifer Hoyt, media relations manager for Oaklawn Park, said track officials agreed Tuesday evening to run multiple divisions even if entries didn't reach the previously announced magic number of 20 horses. They wound up with 19 total.
Hoyt said the split was made regardless "out of consideration for the horsemen and the fans."
The Rebel originally carried a $1 million purse and awarded Derby qualifying points on a 50-20-10-5 scale. Now, the flights will run with separate $750,000 purses, and the races will award 75 percent of the original points, on a 37.5, 15, 7.5 and 3.75 scale to the Top 4 finishers.
Horses with common connections were split — that means unbeaten Bob Baffert-trained 3-year-olds Game Winner and Improbable won't face one another — and others were sorted randomly into a flight.
Division 1:

Division 2:

Oaklawn stepped up with added money last week, when a temporary halt to racing and training was announced at Santa Anita Park in Arcadia, Calif. As a result, the San Felipe (G2) was axed from the track's stakes schedule, prompting the West Coast's top 3-year-olds to ship to Oaklawn."Knowing that some horsemen have very few options this late in the Triple Crown prep season, we felt the right thing to do was to follow through with the plan to split the Rebel," said Wayne Smith, Oaklawn's general manager. "We also wanted to do it for the fans. We wouldn't even be in this position without the overwhelming support they've given us since the start of the season."
The 1 1/16-mile Rebel tops a card with two other noteworthy stakes, the Azeri (G2) for older fillies and mares expected to include Grade 1 winners Elate, Midnight Bisou, Shamrock Rose and Eskimo Kisses; and the Essex Handicap led by veteran Giant Expectations.
Those races lead into the Apple Blossom (G1) and Oaklawn Handicap (G2), while the Rebel serves as a final local prep for the Arkansas Derby (G1).
GAME WINNER @BreedersCup Juvenile Champion is on his way to Oaklawn Park! pic.twitter.com/9sD3QZxY5m

— Oaklawn Racing & Gaming (@OaklawnRacing) March 13, 2019
IMPROBABLE winner of the $300,000 Los Alamitos Futurity (G1) is on his way to Oaklawn Park! pic.twitter.com/gM7PN5XKRV

— Oaklawn Racing & Gaming (@OaklawnRacing) March 13, 2019