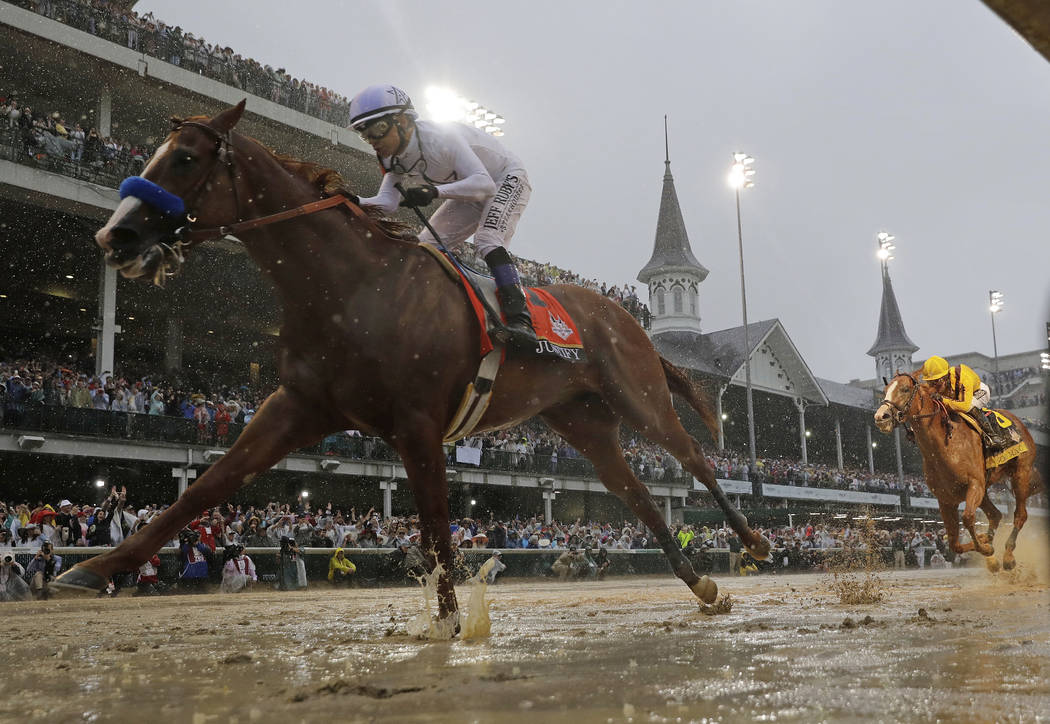 Just when it appeared that California horse racing had turned the page on a terrible 2019, the sport must deal with another huge PR black eye, this one possibly of its own making.
The New York Times reported Wednesday that the Bob Baffert-trained colt Justify failed a drug test after winning the 2018 Santa Anita Derby before going on to sweep the Triple Crown, becoming the 13th horse to accomplish that feat.
The Times reported that the colt tested positive for scopolamine, a drug used to treat motion sickness and postoperative nausea and vomiting in humans that is prohibited in racehorses. The Association of Racing Commissioners International classifies it as a Class 4 drug that has the potential to affect performance.
The Times article said California horse racing authorities proceeded cautiously after receiving word of the positive test, and that deliberate pace allowed Baffert and Justify's owners to enter him in the Kentucky Derby, Preakness and Belmont stakes races, all of which he won. Ultimately, it said, the California Horse Racing Board closed the inquiry in a closed-door executive session four months after the positive test.
Baffert, a Hall of Fame trainer, did not respond to requests for comment from the Times, but told the BloodHorse on Thursday that he suspected the positive test resulted from hay contaminated with jimson weed, which contains concentrations of scopolamine.
"I unequivocally reject any implication that scopolamine was ever intentionally administered to Justify, or any of my horses," Baffert later told the Los Angeles Times.
That was echoed by his attorney, Craig Robertson III, who released a letter he said he sent to the New York Times calling the story "long on sensationalism" and "short on facts."
Chuck Winner, former chairman of the CHRB, also released a statement saying that an investigation of the positive result produced "overwhelming evidence" that Justify and "six other horses in four different barns at Santa Anita had ingested scopolamine from jimson weed, which was present in the hay that had been delivered to the barns."
There have been other scopolamine cases shown to have been caused by contaminated hay, and the CHRB has downgraded the drug's classification in recent years so that a positive test doesn't lead to disqualification if there are "mitigating circumstances," such as contamination.
But the New York Times quoted Dr. Rick Sams, who ran the drug testing lab for the Kentucky Horse Racing Commission from 2011 to 2018, as saying that the amount of scopolamine found in Justify — 300 nanograms per milliliter of blood — suggested the drug was given to enhance performance.
"I think it has to come from intentional intervention," he said.
We'll have to wait for the dust to clear to get a better sense of what transpired and learn why the case was not made public until now.
#RJhorseracing featured races
While controversy swirls on the Left Coast, the #RJhorseracing handicappers are looking eastward as they attempt to unravel the $200,000 Locust Grove Stakes for fillies and mares and the $200,000 Iroquois Stakes for 2-year-olds on Saturday at Churchill Downs.
In the former, run at 1 1/16th miles on the main track, the crowd 'cappers are solidly in the corner of 5-2 morning line favorite Mylady Curlin, who is riding a five-race winning streak for trainer Brad Cox. They have Go Google Yourself and Escape Clause, co-second choices at 3-1, in second and third.
I'll use Escape Clause, who has run second to division leaders Elate and Midnight Bisou on two separate occasions, to spring a mild upset. I have Mylady Curlin second and Moonlit Garden (9-2) third.
In the 1 1/6th-mile Iroquois, an early stop on the road to the Triple Crown in which every horse in the race will be making his first start around two turns, the handicapping crew is backing Rowdy Yates (7-2) over 9-5 morning line favorite Dennis' Moment and Lebda (10-1) in third.
Dennis' Moment looks scary but not invincible, so I'll use Lebda on top, hoping he can jump up in class after an impressive allowance race victory at Delaware Park last out. I have Rowdy Yates to place and Zyramid (10-1) to show.
Mike Brunker's horse racing column appears Fridays. He can be reached at [email protected] or 702-383-4656. Follow @mike_brunker on Twitter.