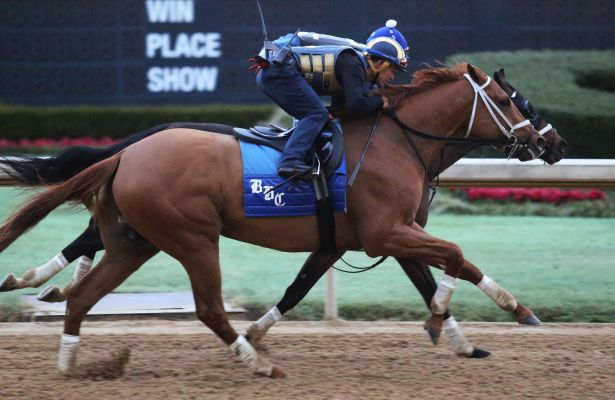 Photo: Coady Photography
Trainer Brad Cox said he's looking at a two-turn spot next for Cowboy Diplomacy, a 3-year-old full brother to champion Monomoy Girl who finished second his Feb. 8 career debut sprinting.

Cowboy Diplomacy was beaten three lengths by Captain Von Trapp after breaking a step slow and being hustled early by Fernando De La Cruz.

"He ran well, but needs two turns," Cox said. "He'll be all right."

Cox said he'll make a decision regarding Cowboy Diplomacy's next start after he returns to the work tab, but added the Tapizar colt could resurface in mid-March. Cox said he told co-owner Marc Wampler about a month before Cowboy Diplomacy's career debut that the colt would probably sprint once before stretching out around two turns.

"I'm not saying he couldn't have won going one turn," Cox said. "You're going to see a better version of him going two turns, put it that way."

Monomoy Girl, a near unanimous choice for champion 3-year-old filly of 2018, had her first published work of the year Feb. 17 at Fair Grounds, covering three furlongs in :37. Cox also trains Monomoy Girl and said the $700,000 Apple Blossom Handicap (G1) April 14 at Oaklawn is under consideration for her 4-year-old debut.

Welder to Work Sunday for Shot at Hot Springs Start

Welder has been nearly unbeatable in Oklahoma and now he will begin trying to build his resume in Arkansas with a workout Sunday morning at Oaklawn. If all goes well, trainer Theresa Sue Luneack said Welder will return to Oaklawn for the $150,000 Hot Springs Stakes for older sprinters March 9, which would mark just the fifth start outside Oklahoma for the 6-year-old gelding.

"I'm very honored to be able to have a horse that's good enough to even run there," said Luneack, who has never had a starter in Hot Springs. "Super, super deep waters there. It's just a big step for us to be able to actually run a horse there."

The Oklahoma-bred Welder has compiled a gaudy 15-4-2 record from 23 lifetime starts and earned $635,151. The roan gelding was named 2018 Remington Park Horse of the Meet after going 4 for 4 (all stakes), including the $165,000 David M. Vance Sprint Sept. 30 when he covered 6 furlongs over a fast track in 1:08.67. Smoke of Ages set the track record (1:08.10) in 1991.

"I've had Welder since he was a yearling," Luneack said. "I've known him for his whole life, pretty much, and honestly I've never seen him better than he is right now. He's just really matured and really just at the top of his game. I couldn't ask for him to be any better than he is right now. He had such a strong Remington meet. Every race just got better and better and better."

Welder hasn't started since earning a career-high 110 Equibase speed rating in the $70,000 Silver Goblin Stakes for state-breds Nov. 16 at Remington Park. Luneack said Welder is based at her farm in Claremore, Okla., but receives timed workouts at nearby Will Rogers Downs, which is about 250 miles northwest of Oaklawn. Welder recorded a five-furlong bullet workout (:59.60) Feb. 13 at Will Rogers.

"That was way too fast for my taste, but there was no slowing him down," Luneack said. "I just feel like he's ready for anything that comes his way."

David Cabrera, who rode Welder in all four starts last year at Remington Park, is scheduled to breeze the gelding Sunday morning. Welder will be vanned home following the work, Luneack said.

"He's never worked there, so I thought it might be good for him to get a feel for that track a little bit," Luneack said.

Welder is an eight-time stakes winner, with five victories coming at Remington Park and three at Will Rogers Downs.

Also pointing for the Hot Springs is Whitmore, who won the race in 2017 and 2018 and hasn't started since finishing second in the $2 million Breeders' Cup Sprint (G1) Nov. 3 at Churchill Downs.

300 Game

Trainer Donnie K. Von Hemel notched his 300th career Oaklawn victory when favored All Around ($4.80) captured Friday's second race under Richard Eramia.

According to Equibase, racing's official data organization, Von Hemel has won 300 of 2,221 starts at Oaklawn, highlighted by 25 stakes victories. Von Hemel, the son of 1981 Oaklawn training champion Don Von Hemel, started his first horse in Hot Springs 1985. His first Oaklawn victory came in 1987.

Hall of Fame trainer Steve Asmussen entered Saturday with 599 career Oaklawn victories. He has won nine local training titles since 2007 and tops the standings this year. 

Finish Lines: There was an abbreviated training session Saturday morning because of inclement weather. …
Tiger Bait, an LSU football-inspired name by owner Staton Flurry of Hot Springs, recorded the most lopsided victory of the meet (14) lengths in her career debut in Friday's fourth race for lower-level Arkansas-bred maiden-claiming fillies. She paid $13.20. Tiger Bait, a daughter of 2013 Preakness winner Oxbow, is trained by
Karl Broberg, who won four other races around the country Friday, including his 3,000th career North American score at Sam Houston. … A day after trainer
Jason Barkley saddled his third winner of the meeting, father Jeff Barkley won Friday's first race with
Frost Or Frippery ($9.60). … The $100,000 Spring Fever Stakes for older female sprinters March 2 closed with 27 nominations, including multiple Oaklawn stakes winner
Amy's Challenge.