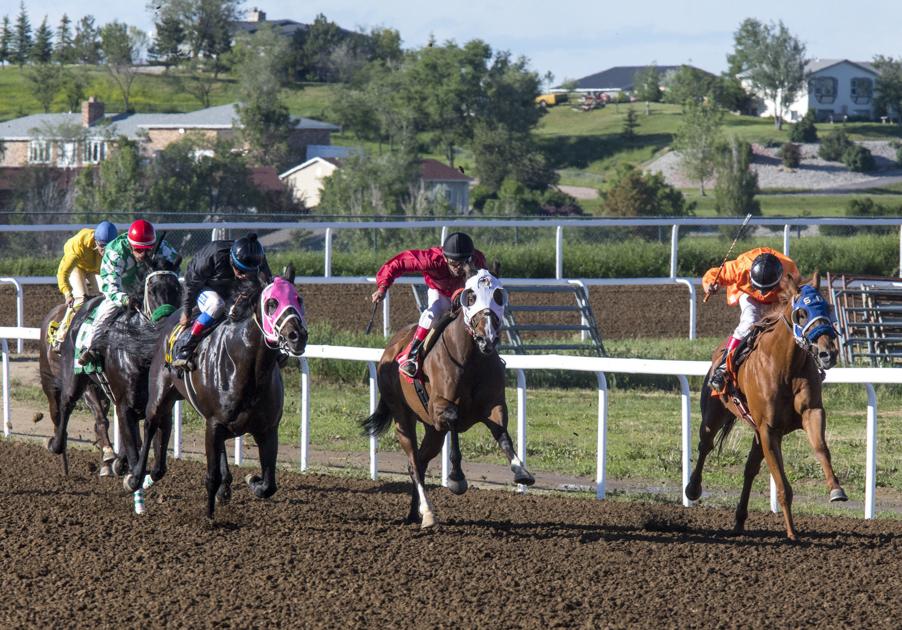 Two-year-old Wyoming-bred quarter horses competed in six races to qualify for the Wabra Futurity at Energy Downs on June 16. It's one of the big-money quarter horse races on the final weekend of competition.
The last name of one Utah horse racing family, Moosman, could be found connected in some way to many of the winning quarter horse race tickets.
Ron and Laurie Moosman, of Morgan, Utah, own the top two qualifiers in the race and bred another qualifier for the $25,000 added purse race that is set for the last day of racing competition June 30 at Morningside Park. Their son, 26-year-old Riley Moosman, trained the three horses and another owned by a someone else.
Though the Moosmans are from northern Utah, they have put a lot of emphasis on owning and breeding racing horses in Wyoming because of the amount of money given back to Wyoming horse breeders from a 2013 state law change allowing pari-mutuel wagering on historical horse racing machines.
"I could see the potential there for the breeders. So at that time I bought a place and moved my mares up there and we've been doing it ever since," Ron Moosman said. "It's a really good deal for the breeders and owners to own a Wyoming-bred (horse)."
The good deal comes at the end of the year when the Pari-Mutuel Commission, run out of Casper, divides a chunk of the money gained from historical horse racing. Points are awarded based on how many horses you've had in races and how well they've done in those races.
If there are eight horses in a race, for example, the winning horse is awarded eight points and the last-place horse gets a single point, Moosman said.
If there were 10 horses, the No. 1 horse would earn 10 points. The breeders and owners divide the points money in a 40-40-20 percentage system: The mare breeder gets 40%, the owner 40% and the stallion breeder 20%.
Moosman said that last year the value was about $500-$550 per point for those who breed Wyoming horses. It can add up to a lot of money after a season of racing in the Cowboy State is completed.
He said that now all of his mares are Wyoming-bred.
Now in his second year benefiting from the program, Moosman said raising Wyoming horses has "been really good to us."
For a horse to be considered Wyoming-bred by the commission, a mare needs to stay from Aug. 15 through the winter until she foals, then she can be moved out of the state to be bred as long as she is back by the following Aug. 15. It's set up so the industry around horse racing in Wyoming gets a piece of that trickle-down benefit that includes feed, equipment and veterinarian services.
To make sure breeders are following Wyoming-bred requirements, the state has inspectors to regulate breeding and make sure the animals are truly born and bred in Wyoming.
More breeders from states bordering Wyoming have been moving in to get a piece of the action as their states don't have a program like the one in Wyoming.
"People can smell money," Ron Moosman said. "This has revived it. It really has."
Riley Moosman, a horse trainer who has been around the business most of his life, holds down the training aspect of the business in Gillette during these racing weekends while his parents are in Utah.
He said the "name of the game" for Wyoming horse racing is breeding a good enough horse to ship to California to compete in some of the higher purse races.
"Here is good money. Running for $100,000, $150,000, to some of them big races in California is a million bucks," Riley Moosman said. "So if they look good here, they'll say, 'Hey, we'll roll the dice and ship 'em to California.'"
Another part of horse racing essential to winning is a good jockey, and that is a resource Wyoming has turned to Utah for as well.
The Moosmans' top jockey, Jesus Valenzuela, is from the same area in Utah as the Moosmans. He rode four of the seven winning quarter horses on June 16 in Gillette and placed in the top four in all seven.
"He gets to pick which one he wants to ride back," Riley Moosman said. "That's what's tough around here nowadays. It's so tough finding a good jockey, and he's very good at what he does."
Riley Moosman said that Utah has considerably more horse racing tracks than Wyoming's four tracks, which only have competitions three weeks at year each. The Utah tracks are open for training year-round and jockeys can get training more often.
Jesse Villegas of Casper trained 21 horses that ran in the races June 16.
Villegas, a 60-year-old veteran of the business, said he was breeding horses before all the race tracks shut down in the late 1990s and horses had to train outside of Wyoming for over a decade when the industry was down.
Now the script has flipped. He's still training, just traveling a quick two hours away to Gillette, while owners from other states are taking a longer haul to his home state.
"It makes sense," Villeges said of the new evolution of horse racing in Wyoming. "If they have the chance to breed mares here and get into this program, I guess I don't blame them."