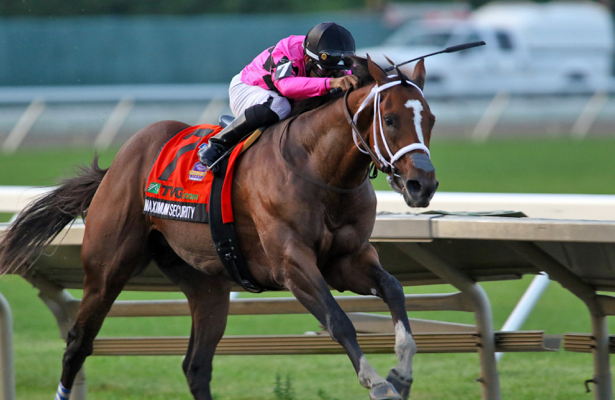 Photo: Mark Wyville/EQUI-PHOTO
The Grade 1, $1 million Pennsylvania Derby, the signature event at Parx Racing, has risen in importance since moving from Labor Day weekend in 2010 to its current location on the calendar in late September. Since then, Will Take Charge in 2013 and West Coast four years later used the race to enhance racing resumes on their way to the Eclipse Award for 3-year-old males.

A victory in the 2019 edition led by Maximum Security might just be what one of the current top sophomores needs to enhance his credentials for a division championship.
Slated as Race 11 out of 12 on the card, post time is scheduled for 5:48 p.m. ET. Meet the field and run down the official morning line, with Cotillion Stakes odds and analysis also available.


Math Wizard [ML 8-1 – Algorithms – S. Joseph Jr./E. Zayas – 12: 2-2-3 – $260,073] Although Math Wizard has a second and a third in the Ohio and Indiana derbys, the latter of which was won by Mr. Money, he has not won a race since January at Gulfstream Park in a $25,000 race from which he was claimed by his current connections. Now, he sees Grade 1 competition for the first time. Toss.


Improbable [ML 3-1 – City Zip – B. Baffert/M. Smith – 8: 4-2-0 – $829,520] Trainer Bob Baffert seeks his fourth Pennsylvania Derby win and his third in a row. Bayern set the track record of 1:46.96 in 2014 before West Coast and McKinzie took this race in 2017 and 2018. Improbable has only one win as a 3-year-old and that came against three challengers in his return race from the Triple Crown, Del Mar's Shared Belief Stakes. However, there were place finishes in the Rebel (G2) and the Arkansas Derby (G1) that came against quality competition, and his fourth-place finish in the Kentucky Derby was a positive. You have to assume that Baffert will have him ready to run his best. Win contender.

Shanghai Superfly [ML 30-1 – Shanghai Bobby – M. Zulueta/F. Pennington – 8: 0-3-0 – $28,330] This Parx-based runner was last seen running second in a maiden claiming race at Monmouth Park for a $50,000 tag. He has raced at five different tracks and has yet to break through in eight tries. Pretender.


War of Will [ML 5-1 – War Front – M. Casse/T. Gaffalione – 12: 4-1-1 – $1,515,569] War of Will got a Grade 1 victory in the Preakness after a vigorous spring campaign on the Kentucky Derby trail. He received some time off after two lackluster performances in the Belmont Stakes and the Jim Dandy (G2). The Mark Casse runner is known to be an excellent morning horse, and he posted two bullet workouts at Saratoga in preparation for this race. This colt is likely to get overlooked a bit against the likes of Maximum Security, Improbable and Mr. Money, meaning he'll go postward with good betting value if you like him. Use underneath.

Spun to Run [ML 8-1 – Hard Spun – J. C. Guerrero/P. Lopez – 8: 3-1-3 – $360,520] This son of Hard Spun was the winner of the Smarty Jones (G3), which is the local prep race for the Pennsylvania Derby. He ran third in the Haskell (G1) in his first try in a stakes race after having to steady while racing into the first turn. He was well behind the top two in there but was also far ahead of the rest of the field. The Carlos Guerrero runner has the home track advantage in this field where he has three wins in five starts, and his trainer says the addition of blinkers has done wonders for the colt. Live longshot.

Mr. Money [ML 4-1 – Goldencents – W. B. Calhoun/G. Saez – 10: 5-2-0 – $1,074,220] Mr. Money brings his four-race win streak in Grade 3 races to Parx to face some higher-level competition for the first time since running fourth in the 2018 Breeders' Cup Juvenile. All four of those victories were impressive, as he stalked the early pace and then drew off to win by sizeable margins of 5 ¼, 6 ½, 2 ½, and 6 lengths. At the same time, Mr. Money was not competing against the division leader, a Preakness winner, and the formidable Baffert stable's representative. This is the toughest spot of his career. Win contender.


Maximum Security [ML 9-5 – New Year's Day – Ja. Servis/L. Saez – 7: 5-1-0 – $1,279,400] Maximum Security has crossed the finish line in first three times in Grade 1 races this year, most recently in the Haskell Invitational (G1). No other 3-year-old boasts that type of resume, one that will assuredly make the Jason Servis trainee the Pennsylvania DErby favorite and the horse to beat. To add, War of Will is the only other horse in this field to have a Grade 1 victory as a sophomore. Servis has already shipped him to Parx to try out the racing surface. Maximum Security has been away from the races since the Haskell with his trainer taking great care to make sure that his sophomore star is at the top of his game when he races. An outside post should help the speedy type establish a comfortable position. Top choice.

Summary: The fact that the major players in this year's Pennsylvania Derby all have similar running styles makes this an interesting race to handicap. To some extent, they all like to stalk the early pace and then use their speed to take control of the race in the final furlongs. It is doubtful that they all will make the same move, so the race strategy will be crucial.

Maximum Security appears to be the one who is most likely to use his speed earlier in the race. Jockey Luis Saez is at his beat when he is being aggressive, and that means sending the son of New Year's Day to the lead shortly after the starting gate opens, as he did in the Florida and Kentucky derbys.

On Saturday, I think Saez will take control of the race from the beginning and issue an early challenge to the others to make a decision about how long they can let Maximum Security race on the lead and still have a chance to beat him.