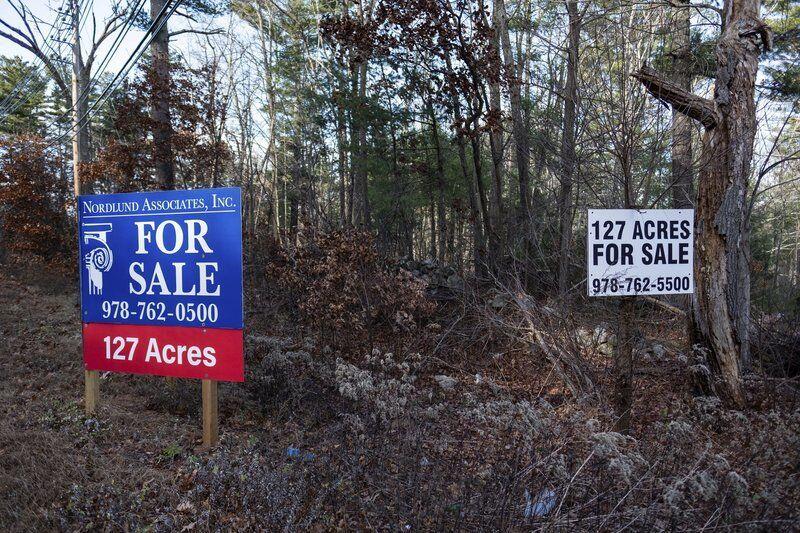 ROWLEY — A $60 million horse racing track proposed off Route 133 has been put on ice, halted by a roadblock to buying land and indications residents wouldn't back the plan.
"The project is frozen," Massachusetts Thoroughbred Horsemen's Association President William Lagorio said Wednesday. "There is nothing going on."
Last fall, local investment firm Rowley Group LLC and the Thoroughbred Horsemen's Association proposed building a racetrack on a 284-acre plot between Rowley Country Club and the police station.
The proposal also called for a 100,000-square-foot clubhouse with elevated seating and offices, parking for 1,000 vehicles, five barns to accommodate 120 horses, and dormitories for more than 100 staff members.
The track was to operate year-round for simulcast racing and events, while live racing would take place from May through September.
Rowley Group and the Thoroughbred Horsemen's Association approached selectmen in September 2019 to present their plans, leading to a public presentation a month later before more than 200 residents at Pine Grove School.
Rowley Group managing member John Grossi previously owned the Latitude Sports Club franchise and has more than 40 years of experience as an entrepreneur. The Amesbury resident confirmed Wednesday he no longer "has the appetite" for the racetrack project.
"We only had that one meeting with the town and that really showed me that they did not have enough of an appetite for a thoroughbred racetrack in their community," Grossi said. "So I am withdrawing from the project. The Massachusetts Thoroughbred Horsemen's Association, however, is still looking to get something up and running, whether it be in Rowley or down in Sturbridge. But I think I'm going to really retire this time."
The Boston Globe reported this week that racehorse owner and business consultant Armand Janjigian has been getting investors together to build a $25 million-plus thoroughbred racetrack in Sturbridge. Janjigian has been working with Sturbridge to adjust its zoning laws to allow racing and gambling, according to The Globe.
Lagorio said the unrelated project in Rowley depended on the purchase of a 127-acre parcel on Silva Lane and 117 acres on Hutts Lane.
"We had had options on two parcels of land but we could not come to an agreement with one of them," Lagorio said. "The first parcel we had no problem with, the second piece of property was a problem. John Grossi really wanted to move forward with it but the second property owner made the deal impossible to go with. COVID-19 also set us back. We couldn't get the project to Town Meeting for a vote."
Lagorio said he believes his racetrack proposal could be a boon to the town's coffers, if completed.
"We were working on legislation to up the ante on the percentage a host town could get and Rowley was in for about $1 million a year," Lagorio said. "It would certainly have been great for racing and great for Rowley."
Town Planner Kirk Baker said the proposal's presentation to the public last year was as far as the project has gone with Rowley.
"Right now, there is no project," he said. "All there was was an informal proposal. We held the meeting and they took citizen input from the meeting but they haven't returned since. No formal application has been filed so it is not a formal project."
Town Administrator Deborah Eagan confirmed that the racetrack proposal has not gone far.
"There was never any formal application," Eagan said. "There was an informal presentation with the selectmen but there has never been anything filed with the town."
Residents were concerned about the proposal, including Robert Barrows, who collected signatures from 700 people opposed to the project.
Barrows pointed out that the 117 acres at 47 Hutts Lane is listed with Nordlund Associates in Danvers.
"That is not the full property that the racetrack was touting. It is missing some," Barrows said. "The fact that they have that part of the property up for sale and that they haven't still applied for anything through the town for over a year just goes to tell you that we think that it is pretty close to being dead."
Staff writer Jim Sullivan covers Amesbury and Salisbury for The Daily News. He can be reached via email at [email protected] or by phone at 978-961-3145. Follow him on Twitter @ndnsully.