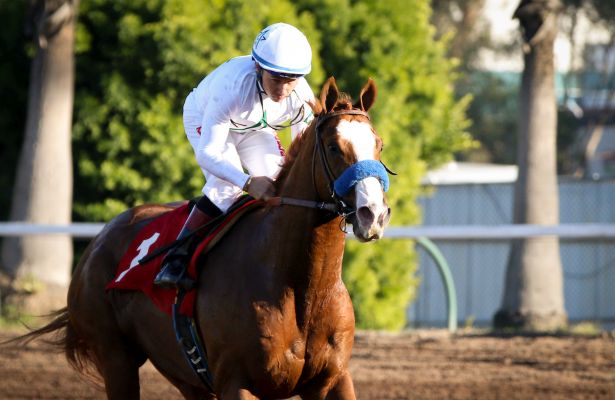 Game Winner will be crowned champion 2-year-old colt without a doubt. He won
two Grade 1 races in Southern California before scoring in the Breeders' Cup
Juvenile at Churchill Downs Nov. 2, but it's far from impossible that one of
his Bob Baffert stablemates could dethrone him as an early Kentucky Derby 2019 favorite.
On the Breeders' Cup Juvenile undercard, Improbable,
owned by WinStar Farm, China Racing Club and SF Racing, romped home in the
Street Sense Stakes in only his second start. Improbable then backed that
performance up with a five-length win in the Los Alamitos Cash Call Futurity (G1) Saturday, notching his first win at the
top level.

"At the top of the stretch (Improbable) looked a
little lost. (Jockey Drayden Van Dyke) had to hit him a couple of times,"
Baffet said. "Once he straightened out, he got into that long, beautiful stride
of his. The good horses always find a way to win. He had trained like he was
going to run like this… We'll just let these horses come along at their own
pace and hope they stay healthy. That's the key. Improbable has a long stride
like Justify. He's just a smaller version. I'm not saying he's at Justify's
level yet, but he's a really good horse."

Game Winner and Improbable are standouts in Baffert's 2-year-old
arsenal. Others include Los Alamitos Futurity runner-up Mucho Gusto, Coliseum
and Roadster. The Hall of Famer's Derby hopefuls are usually seen at Santa
Anita Park and Oaklawn Park after the turn of the year, but with so many
standouts, they're likely to collide at some point on the Derby trail.

Without Game Winner and Improbable running against each other, it's hard to say
one is better than the other, as both are undefeated. What leaves Game Winner
on top is an earlier start to his race career over the summer and a Breeders'
Cup victory. How they stack up against each other at 3 is to be determined. 

The Los Alamitos Derby confirmed Improbable is a colt to watch for on the Derby
trail as he racked up his first 10 points (Game Winner leads with 30). It also
showed that the biggest competition for Baffert's Derby hopefuls might be the
horses they share the same barn with, and Game Winner and Improbable are two of
the biggest names in the 2-year-old division right now.



Chasing Yesterday looks like the best of
Pharoah's siblings

Summer Wind Equine's Chasing Yesterday shined in her Starlet Stakes (G1) victory at Los Alamitos Saturday. The performance
certainly made up for a disappointing go in the Spinaway (G1) during the
Saratoga meet, where she never got rolling after losing a shoe. The win also
makes her the first Grade 1-winning sibling of 2015 Triple Crown winner
American Pharaoh.

Between her two Grade 1 tests, Chasing Yesterday regained her confidence in
Santa Anita's Anoakia Stakes and Del Mar's Desi Arnaz Stakes. She faced tougher
competition at Los Alamitos and overcame turning four wide to win by a head,
running down Mother Mother, the pacesetter and her stablemate, and edging Enaya
Alrabb in second. 

"I didn't think (Chasing Yesterday) was going to get there because
she had been so wide," Baffert said. "She's a nice filly, but (Van Dyke) really
sat patient. He loves this filly and he had a lot of confidence in her…. Pretty
nice to get a Grade I win with American Pharoah's (half) sister."

The mare Littleprincessemma has produced winners after American Pharoah,
including Del Mar maiden winners American Cleopatra and St Patrick's Day, who,
like American Pharoah, are sired by Pioneerof the Nile. American Cleopatra was
second in the 2016 Del Mar Debutante (G1) while St Patrick's Day was runner-up
in a Group 3 stakes this past September. Unlike the two before her, Chasing
Yesterday is sired by Tapit.

Chasing Yesterday earned 10 points on the Kentucky Oaks 2019 trail by winning
the Starlet. While she hasn't faced the like of Jaywalk or Restless Rider on
the East Coast – the one-two finishers in the Breeders' Cup Juvenile Fillies – or
multiple Grade 1 winner Bellafina on the West Coast, the Starlet victory showed
she has fight in her. And so far, she looks like the best of her siblings since
American Pharoah. Look for her as a leading contender when the 3-year-old filly
races pop up in Southern California. 



Hong Kong could have a strong contingent on Dubai World Cup day

Hong Kong-based horses successfully defended their turf during
Sunday's Hong Kong International Races at Sha Tin Racecourse, sweeping the four
Group 1 events – the Hong Kong Vase, the Hong Kong Cup, the Hong Kong Mile and the Hong Kong Sprint.

Beauty Generation (Mile) and Mr Stunning
(Sprint) were both repeat victors from last year's H.K.I.R while Glorious Forever had a breakthrough victory in the Cup and Exultant
earned his first Group 1 in the Vase. At least two of the winners are under
consideration for Dubai World Cup day. 

Trainer John Moore is hoping to take Patrick Kwok Ho Chuen's Beauty Generation
to the Dubai Turf (G1), which runs an extra eighth of a
mile, at Meydan March 30. The conditioner might have to convince the owner it's
worth the trip, though.

"The
owner and his father are of the opinion that they don't come back the same
horse when they travel but I'm trying to convince them that that's not the case
with the way that I travel my horses," Moore said. "There's a few little tricks
there to make sure.

"If
we're going to prove him we're going to have to do it on the world stage: We've
done it here; home ground; that's the advantage; he's done it easily.

"I'd
love to travel him, to take him to Dubai where everyone says right, here's the
top three in the world. I've won the Shaheen and had a few placings over there.

"I
know the venue very well and I believe he could travel. If everything goes to
plan he could win there."

Also under consideration for Dubai is Tony Cruz-trained Exultant, who would
point to the Dubai Sheema Classic (G1) for owner Eddie Wong Ming Chak. Exultant proved he could get the distance in Dubai with his Hong Kong Vase win.

Hong Kong's runners bested horses from Europe, Japan and Australia throughout
the H.K.I.R., a true international event, and if they do make the trip to Dubai
in March, they'll make a strong contingent away from their home turf.