Bio: My name is Ed Medina. I am a huge horse racing fan and wish I could be a full-time handicapper. I grew up around Santa Anita Park and then spent 20 years in the Air Force before landing in the Florida Panhandle. I hope to travel to Keeneland and Saratoga one day to watch the big races there.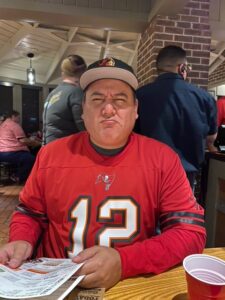 I got into horse racing because it was a great passion of my grandfather. He taught me yelling at the jockeys would help the horses run faster and how to bet an exacta.
My dream job in horse racing is to be a track handicapper and set the morning line odds.
My favorite horse of all time is Medina Spirit. It started because of the similar name but after his huge performance in the Derby and Breeder's Cup, I was totally blown away by his guts.
My favorite active horse is Epicenter. I was very lucky and got to see him break his maiden at Churchill. He is a monster horse who didn't always finish first, but never had a bad performance. I wish him a speedy recovery.
My favorite jockey of all time is Eddie Deahoussays. He was my grandfather's favorite jockey and was always in the mix on the west coast circuit.
My favorite active jockey is Richard Eramia. He won a ton of races over at Louisiana Downs when I used to live down the road from that track. Now I still like to give him a few bets over at Remington every now and then. Tyler Gafflione is moving up my list quickly lately as he has had a great year.
My favorite track was Hollywood Park. I felt like I went through a time machine and was about to watch Seabiscut run when I was there. Amazing!!!
If I oversaw horse racing, the first thing I would do would be move the Preakness from Pimlico to Santa Anita. When I think about great racetracks, Pimlico doesn't make the top 10.
My favorite type of bet is the Pick 4. That's 2 hours of entertainment if you can handicap them right.
My biggest win just happened to be the Breeder's Cup 2022. I turned an $8 Pick 6 into over $3k.
My best experience meeting a horse racing insider hasn't happened yet. I'm hoping to get a chance to meet some of the game's best trainers in the future though.
The person in horse racing I'd most like to meet is Maggie Wolfendale. I watch America's day at the races all the time, and she is the smartest horse person around, in my opinion.