As we move closer to the most over analyzed horse race of the year with the Kentucky Derby looming less than two months away I wanted to utilize the PaceSheets data to determine if the Derby was run today what would the results be. With Forte deservedly moving to the top of the list with his performance in the Fountain of Youth let's take a look at the field and what the data reflects.
2023 Fountain of Youth.
We took the available data and utilized the current point list to build out a field of (16) runners. Here is what the data indicated:
Using the current assigned pace styles there is a lot of back speed (29) pace points, a moderate pace but nothing like the blistering pace projections of last year's derby with the deep closer Rich Strike pulling off the upset.
There are several who would battle for the front-end, the data indicates that Geux Rocket Ride, Practical Move, Raise Cain, Forte and Two Phil's. To win the derby you probably need to be on the pace, the early numbers set up well for Forte and Practical Move.
PaceSheets has the Derby race as (1st) #5 FORTE, (2nd) #10 PRACTICAL MOVE followed by #6 GEUX ROCKET RIDE, #14 ROCKET CAN, #3 CONFIDENCE GAME, #8 INSTANT COFFEE and #16 TWO PHIL'S.

On the PaceSheets data numbers FORTE is top ranked in Speed/Distance & with the top two data points.
One more data test using Forte since he is pointed back to Gulfstream Park for the Florida Derby.  What if we ran Forte in last year's derby using the same data coming out of the Fountain of Youth.  That group was not overly impressive but Forte would be the projected winner based on the data.  Note that the eventual winner WHITE ABARRIO is #7, CHARGE IT #6.
2022 Florida Derby field with FORTE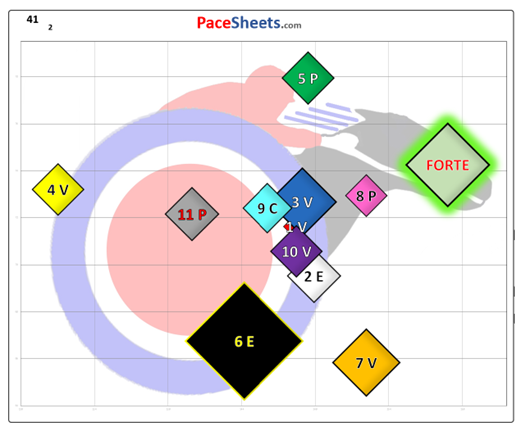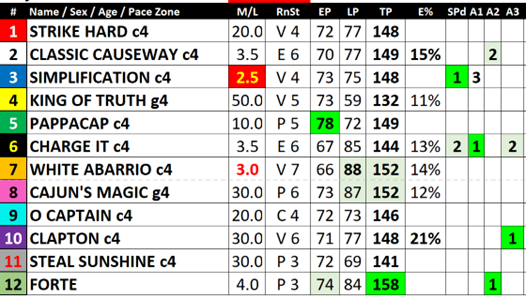 A lot of racing left to go and young runners can make a significant leap from race to race.  As of right now the data indicates that Forte is a legitimate contender.  Follow us as we go into another big prep race this weekend.  I hope you enjoyed reviewing the early Kentucky Derby analysis utilizing the available data.
You can follow PaceSheets on Twitter @pacesheets1 or www.PaceSheets.com