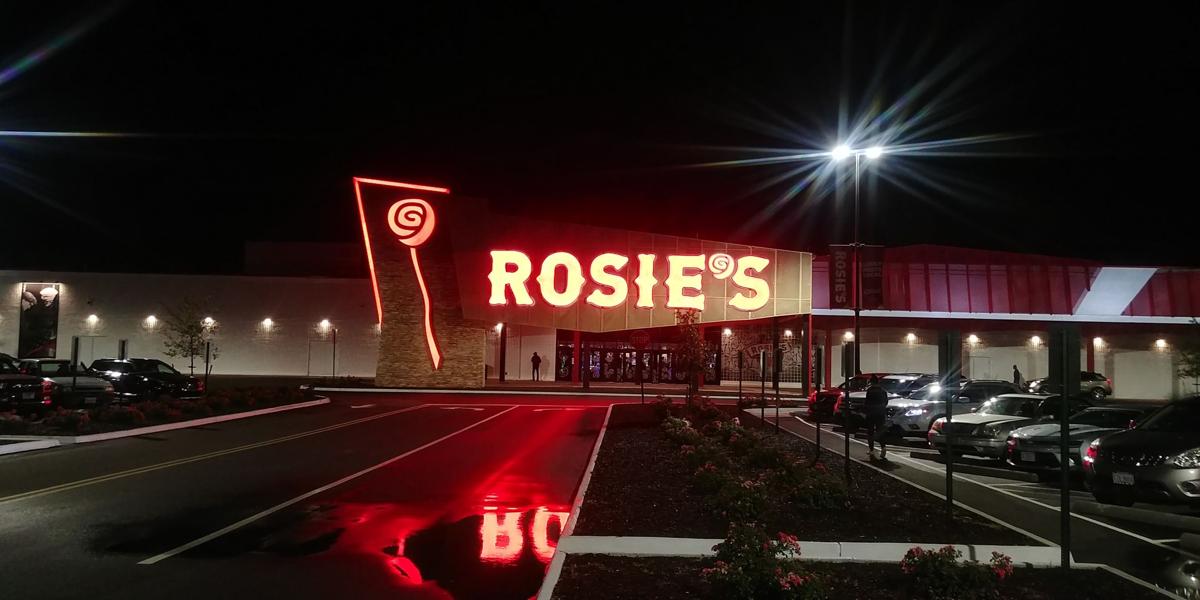 The Town of Dumfries is one of two Virginia localities that could be the future home of a "Rosie's Gaming Emporium," a pari-mutuel betting parlor, depending on the outcome of a voter referendum Nov. 5.
If the ballot question passes, the eastern Prince William County town of about 5,200 residents could be home to a Rosie's-brand gaming facility with 150 "historical horse-race" betting machines – essentially, electronic slot machines.
The Virginia General Assembly approved off-track facilities with historical horse-race betting machines after authorizing a deal to reopen the Colonial Downs track in New Kent County in 2018. The Colonial Downs Group has since opened four pari-mutuel betting satellite facilities in Virginia, the first in New Kent, followed by facilities in Vinton, Richmond and Hampton. So far, Colonial Downs is the only entity licensed to operate pari-mutuel betting facilities in Virginia.
The Town of Dumfries, with its proximity to Interstate 95 and U.S. 1, offers a convenient location for the first Rosie's in Northern Virginia. It also offers a smaller pool of voters to persuade than most localities in the region. Dumfries has 2,700 registered voters, less than 1 percent the 284,678 registered voters in Prince William County.
At a sparsely attended Oct. 17 meet-and-greet hosted by the Colonial Downs Group at Padrino's Pizza in Dumfries, a few residents came out to learn more about the prospective off-track betting parlor.
Jeremiah Burns, a Dumfries resident and owner of Jeremiah's Kansas City Style Barbeque in Quantico, said he supports the idea. Burns said the gaming facility would draw people from the surrounding area to Dumfries and generate more tax revenue.
"I think it's a great idea. I think we should move on this as soon as we can," Burns said. "How could you not be excited about the revenue coming into the town?"
Dumfries resident Bailey Spence said she also plans to vote in favor of the referendum.
"It'll open a lot of job opportunities, and it'll make Dumfries more of a destination spot instead of a place you just drive through," Spence said. "The only concern I have is traffic, but we have traffic here anyway."
Rosie's facilities serve food and alcoholic beverages and allow patrons to vote on both live horse racing and historical horse racing, which happens through machines. People place bets on HHR machines that feed into a collective pool that players can win — with various purses.
The races are "historical," meaning they are actual races that took place in past years. Because the games pull from such a vast pool of past races, it would be difficult or impossible for players to know the outcome before placing their bets. Rosie's patrons can also bet on live horse racing. Colonial Downs held 15 live horse races in August and September of this year, Hubbard said.
152 jobs, about $50,000 in monthly tax revenue
Mark Hubbard, spokesman for the Colonial Downs Group, said the Dumfries outlet would likely most closely compare to the Rosie's that opened in Vinton, Virginia, outside Roanoke, in May. At 15,500 square feet, Vinton is the smallest of the four Rosie's gaming facilities. It has 150 machines and employs 152 people.
Hubbard said the Vinton facility generated an average tax revenue of $55,000 a month for the locality between June and September 2019.
The jobs created by the venue include food and beverage servers as well as "ambassadors" who help with the gaming technology and several security positions. Rosie's is open from 10 a.m. to 2 a.m. on weekdays and 10 a.m. to 4 a.m. on weekends.
Dumfries Mayor Derrick Wood (D) said he supports of the proposed project and the potential for added tax revenue in the town coffers.
"If the people vote for this, then we have to start having these conversations, like what would we do with the additional revenue?" Wood said. "The council will have to come together and determine what we could do with the extra revenue and how can we continue to drive commerce and provide better services for the community."
Wood campaigned on making Dumfries, the oldest chartered town in Virginia, a destination of choice rather than just a place people pass through along U.S. 1.
"If this project lines up with that vision, I support things that support the vision," Wood said.
PAC dedicates $100K to drum up support
So far, the idea has generated little opposition. There are no groups formally registered to lobby against the gaming referendum.
A political action committee in support of the referendum, called "Dumfries Wins With Pari-Mutuel," listed $9,000 in contributions from Colonial Downs as of Sept. 30 and another $95,000 from Peninsula Pacific, the holding company of Peninsula Gaming, in October, according to finance reports filed with the Virginia Public Access Project.
Nancy West, a former Dumfries mayor who served on the town council from 2008 to 2012, said she has received plenty of mailers encouraging residents to vote in favor of the new facility.
But West says she's against the idea because of concerns about the potential for increased traffic in the town and its impact on residential neighborhoods. It's not known yet where the Rosie's would open if the referendum passes, Hubbard said.
"Nobody I know is in favor of putting this right in the middle of town," West said.
West also said she is wary of the Colonial Downs Group after a failed attempt to bring a 1-mile horse racing track to Dumfries in 1999. West was a member of a citizens group called "Citizens for a Better Dumfries" that led opposition to the proposed racetrack.
The decision not to bring a horse track to Dumfries in 1999 was ultimately made by the Dumfries Town Council, and not by voters.
The Richmond Rosie's, a sprawling 54,000 square foot facility with 700 machines, is bustling every day of the week and is especially busy on Friday and Saturday nights, according to floor manager Mark Parson.
Parson said the facility had been well-received since it's July opening. The facility averaged $182,000-per-month in tax revenue for the locality between July and September, Parson said.
Asked about security measures at the facility, Parson said security is a central focus and that "one out of every five employees that we have are security."
"People feel safe and that's the most important thing," Parson said.
Across the state, Colonial Downs Group says it's making a $300 million investment and will create 800 new jobs by the end of 2019.
Those efforts are expected to generate $25 million annually in state tax revenues, $17 million annually in local tax revenues and $25 million annually to Virginia's horse industry. The project is not receiving any tax credits or government incentives, according to the Colonial Downs Group press release.
Reach Daniel Berti at [email protected]