We are yet another week closer to the Kentucky Derby, we ran the top Derby contenders and simulated the 2023 Derby results.
All the focus last weekend was on the Tampa Bay Derby where the expected heavy favorite Tapit Trice raced at the back of the pack and was pushed the entire way around the track by Luis Saez.  The performance was impressive based on where Tapit Trice was and he closed on a front-speed favoring Tampa Bay Downs track.
The good news is we should see him race again before we make a decision on if he is a true contender come the first weekend of May.
2023 Tampa Bay Derby
We took the available data and utilized the current point list to build out the field of the projected top (16) runners.
PaceSheets has the current 2023 Kentucky Derby race rank as:
(1st) #6 FORTE
(2nd) #10 PRACTICAL MOVE
(3rd) #7 GEUX ROCKET RIDE
(4th) #14 ROCKET CAN
(5th) #9 INSTANT COFFEE
(6th) #3 CONFIDENCE GAME
(7th) #16 TWO PHIL'S.
(8th) #15 TAPIT TRICE
(9th) #5 CYCLONE MISCHIEF
(10th) #2 CLASSIC CAR WASH
Projected 2023 KENTUCKY DERBY using the PaceSheets data: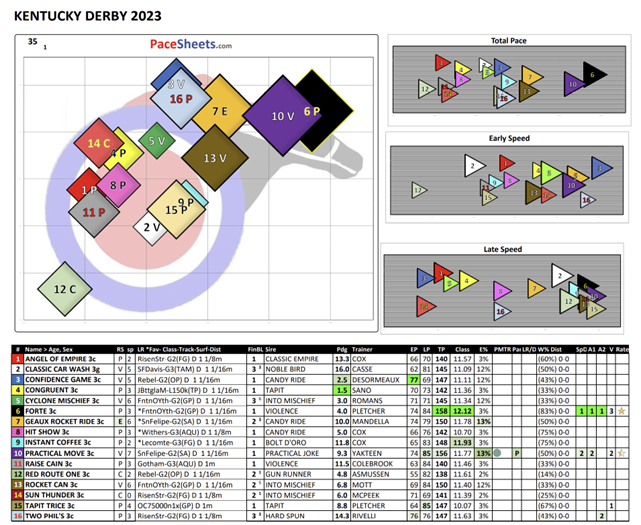 PaceSheets data can be found at www.PaceSheets.com and on Twitter @pacesheets1